Resources
Case Studies
Xometry, a 'Supply Chain Powerhouse,' Sources Critical Components for Nexa3D's Ultrafast XiP Desktop 3D Printer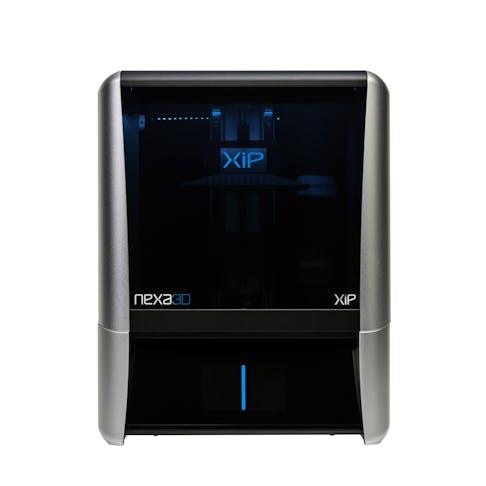 Xometry, a 'Supply Chain Powerhouse,' Sources Critical Components for Nexa3D's Ultrafast XiP Desktop 3D Printer
Xometry and Nexa3D have joined forces to usher in the next stage of additive manufacturing with the introduction of the XiP desktop 3D printer, powered by Nexa3D's LSPc® technology.
By Nathan Miller
July 18, 2022
 8 min read
At a Glance
Industry
Manufacturing Services Utilized
Project Brief
Solution

Industry

Manufacturing Services Utilized

Project Brief

Nexa3D, a rising star in the additive manufacturing space, has just released a new desktop-sized printer boasting impressive production capabilities. In order to bring this product to market on time, they needed a manufacturing partner that could provide parts from a variety of manufacturing processes and could help guide them through the product development process.

Solution

Xometry's AI-powered technologies, diverse supplier network, and dedicated team of subject matter experts helped the team at Nexa3D bring the XiP printer to market quickly and affordably.
The Additive Manufacturing Gap
In the grand scale of human ingenuity, additive manufacturing (AM) is a relatively new manufacturing innovation. What originally started in the 1970s, with a patent for a device named the "Liquid Metal Recorder", has grown into one of the most widely used manufacturing methods, commonly called 3D printing. While predominately used to rapidly prototype and iterate custom parts, 3D printing has an incredible array of applications. It can produce parts for nearly anything, from a hobbyist's personal project to SLA resin Somos PerFORM printed parts designed to endure plasma bombardment from space thrusters. 
A significant number of innovations have come to 3D printing technology since its inception. Layer by layer, these innovations have improved 3D printers and multiplied options resulting in major classes being formed. Most of them fall into 1 of 2 categories: personal desktop 3D printers or production-level 3D printers. Each has its own advantages and disadvantages. Desktop 3D printers are pretty affordable, relatively easy to set up, and can produce complex custom parts quickly. Unfortunately, their small build size can limit their ability to make many functional end-use parts. They are typically not quick enough or robust enough to be a viable solution for most engineers going through the product development process. Meanwhile, production-level 3D printers are able to produce a variety of complex parts at rapid rates. Unfortunately, these machines are often large, very costly, and extremely hard for a novice to set up. This dichotomy has resulted in what we refer to as the Additive Manufacturing Gap -- a desire for high-level performance in the size and price range of a desktop 3D printer.
One long-standing Xometry customer is working to bridge the gap between these two categories of printers.
"Nexa3D started in 2016 with a small group of people and a creative and innovative idea to solve a real problem: 'how can we achieve the printing speed, scale, and throughput that is necessary to make additive manufacturing not just a viable technology, but a truly valuable technology for the industry?' Nexa3D has grown into a passionate group of people who are dedicated to providing that polymer 3D printing solution that is helping eliminate supply chain complexities in the industry, reduce lead times, cut tooling costs, and allow our customers to quickly and easily access solutions that weren't previously possible"
Kenyon Whetsel,
Mechanical Engineering Director at Nexa3D
Nexa3D has already had success in the 3D printing space with their NXE 400 photopolymer 3D printer, an impressive machine with a 16L build volume, incredible speed, throughput, accuracy, and repeatability. Its patented Lubricant Sublayer Photo-curing (LSPc) technology enables production speeds that are up to 6.5x faster than other 3D printers from the same class and has 2.5x greater build volume (16L) when compared to SLA- and DLP-based technologies. The NXE 400 industrial photopolymer printer, along with other Nexa3D printers, features patented Lubricant Sublayer Photo-curing (LSPc®) technology, delivering accurate parts with high tolerances with a superior surface finish. After successfully breaking into the industry, the team at Nexa3D wanted to find a way to bridge the gap between the two traditional classes of 3D printers.
The Nexa3D XiP is the perfect bridge between the convenience and price point of a desktop printer, combined with the efficiency of larger 3D printers. By utilizing a more scaled-down version of their LSPc technology, the XiP is the perfect solution for professional users caught in the Additive Manufacturing Gap. The XiP, which is now shipping, is well suited to rapidly fabricate prototypes and other production-grade components for applications in the engineering, dental, medical, and education sectors.
"The impetus behind the XiP desktop 3D printer is to take the same industrial technology that exists within our NXE 400 printers and make it accessible in the desktop format, with a large emphasis on convenience and utility. One of the biggest advantages for the XiP is its price point; it is certainly a lot more accessible to operators that don't have the same volume and size needs that the NXE 400 is capable of but still require the speed of industrial level equipment. With the XiP, you can fabricate end-use functional parts very quickly with similar quality and speed to the NXE 400."
Kenyon Whetsell,
Mechanical Engineering Director at Nexa3D
One of the biggest hurdles the Nexa3D team faced was creating a product that had not only the capacity to bridge the additive manufacturing gap, but one with an intuitive, user-friendly design for users unaccustomed to industrial 3D printers. Knowing that a typical XiP user might not be as acclimated to the industrial tools, the Nexa3D team designed the XiP so it could be operated with minimal training and maintenance. For example, the XiP has an LCD mask, which is rated at 3,000 hours; meaning that it does not have to be replaced until after 3,000 hours of printing. The user-friendly design of the XiP enables users to replace this LCD mask with a single-hand tool for fasteners, without having to contend with any complex cables or plugs.
The XiP's design is not only compact with an impressive production speed of up to 18cm per hour and generous 4.8L build volume; it was carefully constructed to be environmentally sustainable. By ordering aluminum sheet metal and CNC machined parts as well as nylon and molded ABS parts from Xometry, they were able to create one of the most environmentally friendly printers on the market. Sustainability is incredibly important to Nexa3D,  and it influences all of the design decisions made to produce the XiP and other NXE line printers. Moreover, the company is committed to planting 10 trees for every XiP printer sold in an effort to contribute to reforestation efforts across the globe through a partnership with ForestNation.
Corporate social responsibility is a key component of both Nexa3D's and Xometry's cultures and social missions. Xometry is proud to join Nexa3D as we work together to create a greener, more sustainable economy. Xometry's Go Green Initiative has been offsetting the carbon footprint of shipping parts for our customers since early 2020. At the time of this writing, Xometry's carbon offsetting efforts have offset nearly 6 million lbs of carbon, which is the equivalent weight of 33 aircraft carriers. The Xometry Instant Quoting Engine calculates each order's estimated carbon footprint and the cost to offset the emissions. When you place an order with Xometry, we encourage you to select one of our carbon offset options, which allows you to offset 0%, 50%, or 100% of the emissions produced by manufacturing your parts.
Xometry: The Supply Chain and Sourcing Powerhouse
Every product is intentionally built from a series of hundreds of decisions; a carefully selected combination of materials, discerning design choices, and shrewd business decisions. While the product development process can be challenging, the engineering team at Nexa3D had a significantly easier time developing the XiP because they chose to work alongside Xometry from the beginning of the project. Nexa3D has been working alongside Xometry for years because of our diverse menu of manufacturing technologies and subject matter experts, which make us an ideal partner through every stage of the product development process. In addition to our wide array of process options, the engineering team at Nexa3D also regularly utilizes Xometry's online instant quoting capabilities to make rapid time, cost, and manufacturability design evaluations to optimize their projects.

Despite his years of experience working with Xometry, Nexa3D Mechanical Engineering Director Kenyon Whetsell admitted that he wasn't fully aware of all of the benefits Xometry provides before the XiP project began. 
"As we were developing the XiP, I realized I had made an assumption about Xometry; I thought it was mostly useful for prototypes or situations where speed is very important. In early product development phases, cost is not the primary driving factor for us. What we learned as we ramped the XiP into production is that Xometry is a supply chain and sourcing powerhouse! The supply chain capabilities that they provide go far beyond my prior assumptions. In most situations, Xometry is able to beat our existing networks, in terms of cost, lead time, and quality. There's no downside with Xometry, it's a win across the board, especially when you need guidance from subject matter experts."
Kenyon Whetsell,
Mechanical Engineering Director at Nexa3D
The team at Nexa3D has no shortage of additive manufacturing experts. Their 3D printers, which are powered by proprietary LSPc technology and patented structured light matrix, stand as a testament to their expertise. With that being said, no engineer can be a subject matter expert in every field. Nexa3D benefited greatly from the help of other experts, particularly when designing a product like the XiP that is composed of parts from multiple manufacturing processes.
"Xometry is available at every step of the way. whether it's in the early quoting process where you are getting cost comparisons, whether it's during the manufacturing stages and helping resolve issues, or even if you need them to react to late-stage changes. Xometry's engineering teams are very, very amenable and are always ready to help solve these challenges. By working with the Xometry team, we can be confident that we're achieving an optimal design from a cost and value engineering perspective. Another value-add that comes from working with Xometry is their experience with QA and QC processes. We basically know that, for every part that we're getting from Xometry, they're doing their part to ensure that the part conforms to our specifications and that it's made accurately. They work very closely with us to make sure that we achieved the sort of finish and aesthetic that we were looking for."
Kenyon Whetsell,
Mechanical Engineering Director at Nexa3D
Xometry is constantly expanding its capabilities to help serve customers struggling in an increasingly difficult economic environment. Recently, at the first-ever Xometry Marketplace Summit, Xometry's CEO Randy Altschuler unveiled new technologies redefining how buyers and suppliers come together to produce the goods that fuel the global economy. Chief among them is the introduction of the Industrial Buying Engine on Thomasnet.com® - A new digital sourcing tool for enterprise buyers that helps customers source and purchase from more than 10,000 top suppliers – all within the Thomasnet.com ecosystem. The Industrial Buying Engine also incorporates Xometry's Instant Quoting Engine, giving buyers even more flexibility.
The XiP: Technology Dissection
The core of the XiP's power rests in Nexa3D's proprietary LSPc membrane technology. The self-lubricated, flexible membrane reduces the adhesion forces that are typically found in similar stereolithography (SLA) or masked SLA processes. By utilizing a UV light source to cure photopolymer materials and an LCD mask that selectively cures full layers at a time, the XiP reaches productivity that surpasses everything else on the market. The team at Nexa3D used injection molded parts from Xometry to build the LSPc Membrane frame, an economical consumable that helps facilitate fast printing. The XiP's cartridge and resin dispensing systems are also derived from injection molded components, allowing users to easily fill and change their intended materials.
XiP
Specifications

XiP

Specifications

• Lubricant Sublayer Photo-curing (LSPc); Everlast-2 membrane 

XiP

Specifications

 • X: 190 mm (7.5"), Y: 120 mm (4.7"), Z: 210 mm (8.6") 

• 4.8 liters print volume

XiP

Specifications

• 405 nm LED array w/ collimating lens 

• Modular 9.3" Monochrome 4K LCD Mask

XiP

Specifications

 • 0.050 mm (.002") / 0.100 mm (.004") / 0.200 mm (.008")

 • Pixel Size: 52µm

XiP

Specifications

• Automatic Gravity Feed Cartridge w/ Vat Level Sensing 

• Smart NFC bottle and resin vat/membrane 

• Auto electromagnet vat clamping; quick release build plate 

• Stackable vat storage 

• Built-in spill containment

XiP

Specifications

• Billet aluminum enclosure 

• 420mm (16.5") W x 350mm (14") D x 530mm (21") H 

• 5.5" Color HD OLED Touchscreen Display 

• Z-Stage • Rigid parallel linear rails 

• Recirculating ballscrew 

• Ethernet / USB / Wi-Fi connectivity

The most visible eco-friendly aspect of the XiP comes from the material that constitutes the sleek, silver body of the printer. The body of the 3D printer is made from robust aluminum, one of the most recycled materials in the world. This heavy-duty material allows the XiP to last a long time, even under heavy use. In addition, the Xometry-produced sheet metal components act as supports for the electronics, routing, and cooling air systems Meanwhile, CNC machined parts are used for the XiP's print engine structure and resin vat, which maintains a rigid and easily cleanable tank to hold resin. Other CNC machined components are used in the XiP's build plate, where tight tolerances and precisions are essential. Extruded parts are sourced for the resin vat's membrane frame attachment, which facilitates fast and easy changes of the LSPc membrane. The build plate design is user-friendly and can be interchanged with another build plate.
After the launch of their new XiP printer, the team is working hard to get the XiP printer in the hands of its customers.
"I think this level of productivity, combined with convenience and ease of use, is something that hasn't been seen in the industry before. In terms of what's next for Nexa3D, we're already moving on to the next challenge and the next product that is sure to excite our customers. The additive manufacturing industry moves at such a great pace. We do our best to keep up and stay ahead; we are grateful to have Xometry, to help us along the way"
Kenyon Whetsell,
Mechanical Engineering Director at Nexa3D
If you want to harness the power of this ultrafast desktop resin 3D printer, the XiP is available now for customers worldwide at Nexa3D's web store.
And, If you want to learn more about additive manufacturing, we encourage you to listen to our Webinar: How to Design for 3D Printing. And, if you are ready to order, head over to the Xometry Instant Quoting Engine to get pricing and lead times for 3D printing, CNC machining, laser cutting, injection molding, and a variety of other manufacturing processes.
Nathan Miller
Hi, I'm Nathan, a Marketing Content Writer at Xometry; I help tell the stories of our customers and how Xometry helps them build their big ideas.