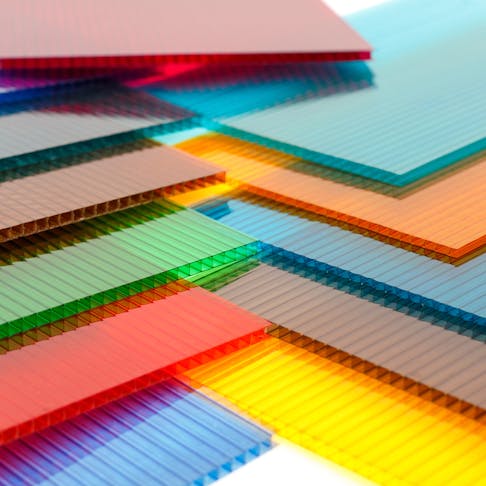 Polycarbonate vs. Polyethylene: Material Differences and Comparisons
Learn more about the differences and uses of these materials.

By Team Xometry
January 20, 2023
 8 min read
Polycarbonate (PC) is an amorphous thermoplastic with similar light transmission to glass, and has high impact and heat resistance. It is widely used as a glass substitute for its increased durability. PC is used for lights in automotive applications, and for eyewear, lighting fixtures, greenhouses, medical devices, and protective gear. 
Polyethylene (PE) is a thermoplastic polymer manufactured in various densities. These densities are heavily influenced by the degree and form of side branching from the polymer chain. The range of densities of polyethylene represents a spectrum of properties and suitability for wide-ranging and overlapping applications. This article will compare polycarbonate vs. polyethylene in terms of properties, applications, and costs.
What Is Polycarbonate?
Polycarbonate (PC) is a transparent thermoplastic that is widely used because of its durability and impact strength. Its scratch resistance is poor, but hard coats counter this. It is suitable for eyewear and lenses because of its relatively high refractive index of 1.58 (allowing thinner lenses for the same focal effect).
Polycarbonate is generally considered interchangeable with polymethylmethacrylate (PMMA, or acrylic). Molded PC has higher light transmissivity than glass and is widely used as a substitute. Low molecular-weight grades of PC offer poorer properties than those with higher weights but easier processing. Choosing between cost and toughness drives selection; the higher weight grades are widely employed in aerospace, for example.
The toughness of a PC is valuable, and it is widely used in automotive components. Its UV stability is relatively low, but adding coatings and antioxidants increases PC's life span. Thus vehicle light covers don't yellow and embrittle, as they used to. PC is well suited for roofing applications because of its toughness and relatively low cost. It is also highly transparent in the visible spectrum and virtually opaque to UV.
PC is also an important copolymer addition, adding strength and rigidity to other polymers. However, PC is extremely vulnerable to attacks by oils, solvents, and organic acids, which rapidly break down the polymer and destroy it. This property carries over into many of its copolymer uses. For more information, see our guide on What is Polycarbonate Material.
What Is Polyethylene?
Polyethylene (PE), in low density (LDPE) and high density (HDPE), is widely employed. Chemically identical, these variants are formed from long chains of CH2, differentiated by the regularity and size of side branches of the CH2 monomer. The side branches are randomly orientated and can result in networks of chains as LDPE. They can be minimal and made of a single CH2 unit, which makes HDPE. The effect of the branching present in LDPE forces distance between chains, reducing the density by pushing the chains apart. HDPE forms regular and close-packed chains which increase the density and various properties. The reduced density of LDPE (compared with HDPE) makes it a softer and weaker material, but more elastic and more resistant to shock loading. For more information, see our guide on What is Polyethylene.
Polycarbonate vs. Polyethylene: Applications and Uses
Listed here are the leading market sectors that utilize polycarbonate (extruded/calendered sheet, and molded items) and their applications:
Medical Equipment: Cameras, lenses, medical aids.
Protective Eyewear: Safety goggles, and face shields.
Optical Components: Human vision corrective and instrument lenses, light guides.
Automotive: Light covers and lenses.
Media Discs: Blu-ray, DVDs.
Domestic and Commercial Paneling: Cupboards, kitchen paneling, handles.
Display Stands/weatherproofing: Advertising displays, protective covers for advertising, weather shields, barriers in public spaces, and bus stops.
Agriculture: Greenhouse roofing/windows.
Lightweight Luggage: Bags and suitcases.
Polyethylene has applications across many sectors including:
Packaging: Used for crates, trays, milk bottles, caps for PET bottles, fuel cans, drums, and industrial fluid containers.
Consumer Goods: Trash bins, garden equipment and furniture, storage bins, children's toys, and playground equipment.
Textiles and Fibers: HDPE is widely used for agricultural applications, such as in ropes, fishing, sports nets, and industrial and decorative fabrics.
Pipes and Fittings: For gas, water, sewage, drainage, outfalls, rain collectors, and septic tanks.
Cable sheaths, steel pipe corrosion coatings, chemical tanks, and fittings.
Automotive: Fuel tanks, wiring & cables, cable ties and retainers, body-mounted clips.
Polycarbonate vs. Polyethylene: Physical Properties
Table 1 lists the properties of polycarbonate and polyethylene:
Table 1: Properties Comparison of Polycarbonate vs Polyethylene (HDPE & LDPE)
Property
PC value (metric)
LDPE value (metric)
HDPE value (metric)

Property

PC value (metric)

Very high, better than glass

LDPE value (metric)

Moderate can be improved by biaxial orientation in the film

HDPE value (metric)

Property

PC value (metric)

LDPE value (metric)

HDPE value (metric)

Property

PC value (metric)

LDPE value (metric)

HDPE value (metric)

Property

Tensile strength, ultimate

PC value (metric)

LDPE value (metric)

HDPE value (metric)

Property

PC value (metric)

LDPE value (metric)

HDPE value (metric)

Property

PC value (metric)

LDPE value (metric)

HDPE value (metric)

Property

PC value (metric)

LDPE value (metric)

HDPE value (metric)

Property

PC value (metric)

LDPE value (metric)

HDPE value (metric)

Property

PC value (metric)

LDPE value (metric)

HDPE value (metric)

Property

PC value (metric)

LDPE value (metric)

HDPE value (metric)

Property

PC value (metric)

LDPE value (metric)

HDPE value (metric)

Property

PC value (metric)

LDPE value (metric)

HDPE value (metric)
Polycarbonate vs. Polyethylene: Recyclability and Sustainability
Polycarbonate (PC) is manufactured from hydrocarbon materials. It's a highly recyclable material that responds well to shredding and re-melt extrusion to make second-grade feedstock pellets. This requires rigorous sorting to avoid impurities, but the automotive sector has advanced in its recycling and circular use of PC. Very little effective recycling of PCs takes place otherwise. For thermoplastics, the recycling process is simple—sort, shred, wash, and extrude as pellets for reuse. The difficulty lies in that PC used outside the automotive industry is often in copolymer form, and the volumes of PC employed are low, so there is limited scope to establish collection and reuse.
PE (polyethylene) is among the most recyclable polymers, but most are film products that are very hard to handle. Huge volumes justify installation/processing, and the polymer chain is only minimally damaged by remelting. However, recycled material cannot compete with the price of virgin material. Recycled material maintains a fairly high price, but the process is barely profitable because of the sorting/handling difficulties. Very little LDPE is recycled, it ends up in incineration or landfill. HDPE film materials are generally used in heavier (thicker) sections, are colored, and are relatively easy to sort for high purity. The process does not require the separation of colored, natural, and clear materials at the sorting stage. The end result is high-quality, second-grade material of dark color that can be used for a range of applications. This material can be used as feedstock or more often as a second-grade additive in new material.
Polycarbonate vs. Polyethylene: Cost
PC (polycarbonate) is a low-volume, specialist, and high-cost material, priced at around $2.80 per kg. Recycled material of near-top grade can sell for $1.60 per kg, where a supply chain exists. Like all of the PE (polyethylene) family, HDPE is a low-price material that is manufactured in huge quantities and is generally considered a commodity material. The price for virgin material is around $8.50 per kg, falling to $2.50 for recycled material. LDPE is considerably lower cost than HDPE, generally selling as granules in the $0.90–$1.10 price range. Recycled, clear LDPE is available at a similar or slightly lower price; it is generally used as a 10–20% addition to virgin material, saving manufacturers a few cents per kg.
Alternative Materials to Polycarbonate and Polyethylene
Alternative material options for polycarbonate are highly dependent on the application. For example:
Acrylic offers some advantages, such as better scratch resistance and lower-temperature working, but it is considerably less strong. Acrylic offers good clarity but has a lower refractive index, making it suitable for windows but less so for lenses. In this case, urethane materials such as Trivex™ offer advantages.
In lower-grade, transparent applications, polystyrene (PS) offers an alternative to PC (polycarbonate), but it is considerably weaker and very fracture prone. However, for applications such as light guides, PS can serve well.
In many cases, ABS is a good alternative to PC, where ultimate strength and flexural resilience are not a concern.
There are several alternatives to PE (polyethylene). LDPE, for example, can be replaced with BOPP (biaxially oriented polypropylene), PVC (polyvinyl chloride), polycaprolactone, PET, and ABS for films. Options for pipes and fittings are: UPVC (unplasticized polyvinyl chloride), PEX, copper, iron, various plated metals, and stainless steel. HDPE, on the other hand, has a wide range of applications, but they are narrower in scope and alternatives are more straightforward. For most applications, alternatives are: PET, PEX, ABS, PP, and rubber-modified PP.
Summary
This article presented polycarbonate and polyethylene, explained what they are, and discussed the differences between each material. To learn more about polycarbonate and polyethylene, contact a Xometry representative.
Xometry provides a wide range of manufacturing capabilities and other value-added services for all of your prototyping and production needs. Visit our website to learn more or to request a free, no-obligation quote.
Copyright and Trademark Notice
Trivex™ is a registered trademark of PPG Industries Ohio, Inc.
Disclaimer
The content appearing on this webpage is for informational purposes only. Xometry makes no representation or warranty of any kind, be it expressed or implied, as to the accuracy, completeness, or validity of the information. Any performance parameters, geometric tolerances, specific design features, quality and types of materials, or processes should not be inferred to represent what will be delivered by third-party suppliers or manufacturers through Xometry's network. Buyers seeking quotes for parts are responsible for defining the specific requirements for those parts. Please refer to our terms and conditions for more information.

Team Xometry
This article was written by various Xometry contributors. Xometry is a leading resource on manufacturing with CNC machining, sheet metal fabrication, 3D printing, injection molding, urethane casting, and more.