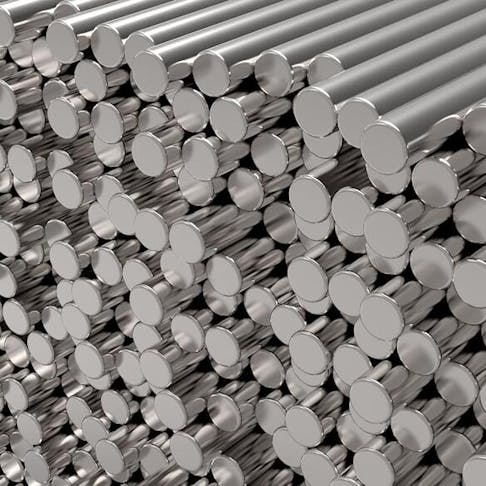 All About 7075 Aluminum Alloy
Learn more about 7075 aluminum alloy and how it's used in manufacturing.

By Team Xometry
October 24, 2022
 6 min read
7075 aluminum employs a high zinc content and achieves some significant improvements in performance over other contemporary grades. It has very good mechanical properties such as: tensile strength, ductility, toughness, and fatigue resistance. 7075 aluminum is quite susceptible to embrittlement because of microsegregation (relatively poor homogeneity), but greatly improves the corrosion resistance of the 2000 series alloys. It is widely employed in highly stressed structural applications, particularly in the structural parts of aircraft.
7075 aluminum was first developed by Sumitomo Metal in Japan in 1935 and was heavily employed in military aircraft production. It was reverse engineered by Alcoa in the US in 1943 and was a significant component in the rapid improvement in military aircraft design among the Allies. 
This article will discuss the composition of 7075 aluminum alloy, its characteristics, material properties, and applications.
What is Aluminum Alloy?
Aluminum alloys are metals that consist primarily of aluminum and are combined with small percentages of other elements, such as: silicon, copper, magnesium, tin, and manganese. The combination results in the alterations of the properties of aluminum. This alteration is generally produced by a combination of lattice strain from "misfit" atoms and modified crystalline structures by precipitation processes or by directly influencing grain growth.
What is the Alloy Composition of 7075 Aluminum?
The alloy composition of 7075-grade aluminum alloy is: 87.1–91.4 % aluminum, 5.1–6.1 % zinc, 1.2–2.0 % copper, 0.0–0.3 % manganese, 0.0–0.4 % silicon, 0.0–0.5 % iron, 2.1–2.9 % magnesium, 0.18–2.0 % chromium, 0.0–0.2 % titanium, and 0.05–0.15 % of other elements. These small amounts of modifying elements each have particular desirable influences, either alone or in concert with others. 
What Are the Characteristics of 7075 Aluminum?
The characteristics of 7075 aluminum are: high strength, average corrosion resistance, and poor weldability. 7075 aluminum was the first aluminum alloy to benefit from the combination of high zinc content and relatively high chromium content. Zinc has dual effects in that it assists with precipitation hardening but at elevated levels in this alloy and delivers higher yield stress and ultimate tensile strength. It is speculated that research models indicate that zinc enhances  strength by inhibiting partial dislocation. The relatively high chromium content reduces crystal growth, enhancing ductility and toughness.
7075 alloy, also known as aircraft aluminum or aviation aluminum, is widely used for structural parts and skin elements. Structural parts tend to be T651 temper, whereas skin sheets are generally T6 temper. Fatigue resilience is similar to 2000-series alloys, making 7075 aluminum ideal for most aircraft and the structural components of rockets.
Table 1: Material Properties 7075 Aluminum
Property
7075-O
7075-T6-T62
7075-T73

Property

7075-O

7075-T6-T62

7075-T73

Property

7075-O

7075-T6-T62

7075-T73

Property

7075-O

7075-T6-T62

7075-T73

Property

7075-O

7075-T6-T62

7075-T73

Property

Brinell hardness - 500g weight, 10 mm ball

7075-O

7075-T6-T62

7075-T73

Property

Elongation at break (12.7 mm test piece)

7075-O

7075-T6-T62

7075-T73

Property

7075-O

7075-T6-T62

7075-T73

Property

7075-O

7075-T6-T62

7075-T73

Property

7075-O

7075-T6-T62

7075-T73

Property

Thermal expansion coefficient

7075-O

7075-T6-T62

7075-T73

Property

7075-O

7075-T6-T62

7075-T73

Property

7075-O

7075-T6-T62

7075-T73

Property

7075-O

7075-T6-T62

7075-T73

Property

7075-O

7075-T6-T62

7075-T73

Property

7075-O

7075-T6-T62

7075-T73

Property

7075-O

7075-T6-T62

7075-T73
Where is 7075 Aluminum Alloy Used?
7075 aluminum is widely employed in the aerospace sector as it offers among the highest strength-to-weight ratios available. It is used both in structural members and in aircraft skins, although this use is diminishing in favor of some 6000-series alloys. Other common uses for 7075 aluminum are in the manufacture of rock climbing gear and bicycle components, and  as a key material in the US military M16 rifle. It is one of the backing materials used in ceramic composite armor of military vehicles because of its high strength-to-weight ratio and good corrosion resistance.
How Strong is 7075 Aluminum?
7075 wrought aluminum grades have a maximum tensile strength of greater than 572 MPa with a density of 2.8 g/cm3. 304-grade stainless steel, on the other hand, has a tensile strength of 621 MPa and a density of 8 g/cm3. So 7075 aluminum has 90 % of the strength of 304 stainless steel and ~ 1/3 of the weight. An equivalent weight of 7075 is therefore nearly three times the strength of an equal mass part made from 304 stainless steel.
What Are the Common Trade Names of 7075 Aluminum?
The common trade names of 7075 are: AE Alloys, Aluminum v95, Zicral, Ergal, and Fortal Constructal.
How Do I Tell What Grade My Aluminum Is?
You can tell the grade of aluminum by taking a look at the number classification listed in the manufacturing spec. Other than that, it is very hard to differentiate grades of aluminum alloy except if you look at the general softness and flexural strength by damaging a sample. The alloying components are not sufficient to make much visual alteration—although badly stored material that has corroded may offer a general classification indicator.
What is the Operating Temperature Range for 7075 Aluminum?
The operating temperature range for 7075 aluminum should not go above 100 °C. Its yield strength degrades severely above 100 °C and diminishes by 30 % at 150 °C, so it is not suited to high-stress applications at elevated temperatures. 7075 alloys are considered suitable for cryogenic use, however. Although some loss of strength and embrittlement will occur, these can be considered design factors rather than a cause for exclusion. 
Is 7075 Aluminum Good for Welding?
No, aluminum 7075 is poorly suited to arc and oxy-acetylene welding because of micro-fracturing that occurs around the welded areas. However, spot welding is a lower-risk option, as less bulk heating is involved, causing less disruption to the alloy microstructure.
What Are the Things To Consider When Choosing an Aluminum Grade?
The factors to consider in choosing an aluminum grade are:
Strength: Can the design accommodate the volume of material required to deliver the required strength?
Fatigue Resistance: While many aluminum grades are resilient for aluminum, there are better, non-aluminum options, if fatigue exposure is extreme.
Processing: Not all processes are suitable for all alloys. So, for example, the need for minimum weight may drive the use of forging for a component.
Construction: If a structure requires welding to form the assembly of parts, some alloys are suited to this while others are ruled out.
Corrosion: Several aluminum alloys offer poor corrosion resistance. They can be ruled out of wet and, particularly, marine applications—whereas others are well suited to long-term (mildly) corrosive environments.
Damage Resilience: Life-critical structures that are at risk of major failure must be designed to withstand partial failure without cascading into total collapse. Some grades offer considerably higher elongation at a break along with high strength; when the unthinkable happens, they are more likely to survive damage, which can save lives.
Cosmetics: Some grades are better suited than others for aesthetically pleasing surfaces and parts.
Summary
This article presented 7075 aluminum alloy, explained what it is, and discussed its properties and how it's used in manufacturing. To learn more about 7075 aluminum alloy, contact a Xometry representative.
Xometry provides a wide range of manufacturing capabilities and other value-added services for all of your prototyping and production needs. Visit our website to learn more or to request a free, no-obligation quote.
Disclaimer
The content appearing on this webpage is for informational purposes only. Xometry makes no representation or warranty of any kind, be it expressed or implied, as to the accuracy, completeness, or validity of the information. Any performance parameters, geometric tolerances, specific design features, quality and types of materials, or processes should not be inferred to represent what will be delivered by third-party suppliers or manufacturers through Xometry's network. Buyers seeking quotes for parts are responsible for defining the specific requirements for those parts. Please refer to our terms and conditions for more information.

Team Xometry
This article was written by various Xometry contributors. Xometry is a leading resource on manufacturing with CNC machining, sheet metal fabrication, 3D printing, injection molding, urethane casting, and more.