Some Tips on Deciding Whether to Use PolyJet 3D Printing vs CNC Machining vs Something Else for Short-Run Jobs
Frankly, there are a lot of reasons on why to make a one-off or short run part: prototypes, fixtures, first articles, feature testing, and display models to name a few. The real question that we see on a day-to-day basis is how should the part be made?
Xometry offers several methods of creating parts: CNC Machining, Plastic Additive Manufacturing (PolyJet 3D printing), and Metal Additive Manufacturing (Direct Metal Laser Sintering / DMLS). Hopefully this post can serve as a tool for how to choose your process based off of the application of your design, environment, part size, part complexity, budget, and time frame.
I am going to start this long conversation with a very simple graph with the relative strengths and weaknesses of a given process. Please keep in mind that this is a generalization and there is some wiggle room for each method – but this graph can still serve as a guide.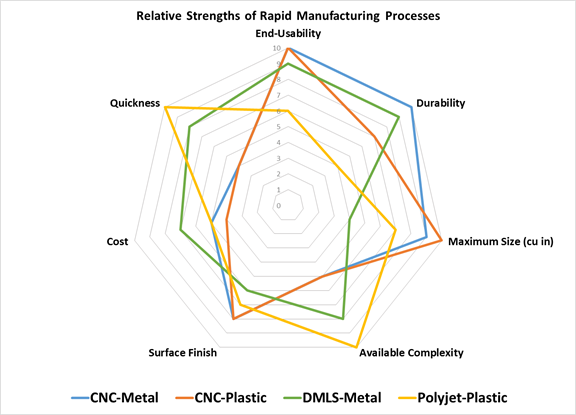 Part designers have many constraints but there are a couple that usually scream out as a priority. For example, if I need a complex part quickly I may look at Polyjet-Plastic options; however, this may also mean I am sacrificing a certain level of end-usability or durability. Another example may be where I just need a large, simple fixture to hold parts in place for an assembly job over a month away. In this example I would likely look at CNC-Metal or CNC-Plastic; these processes has a longer lead times to make but will likely be the most economical option. Some of the Polyjet-Plastic materials, such as ABS-Like, have high strength and some flex which allows them to substitute for rigid fixture parts so if your requirements are slightly changed – such as an expedited lead time.
The team at Xometry is highly experienced in not just making the parts, but also applying the processes to fulfill various needs. We have decades of Additive and Subtractive Manufacturing experience in house and are happy to help guide you through our process and finish selections to make sure you have the best parts given your priorities.
Like I said: This is the beginning of a long conversation. We look forward to working with you.