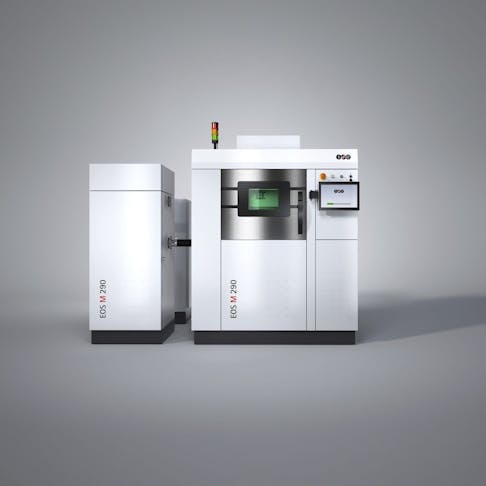 How Much Does a Metal 3D Printer Cost?
The modern market is full of metal 3D printers that come at widely disparate price points. Costs vary depending on the underlying technology. In addition to the cost of the machine, there are also other expenditures such as the raw material, operations cost, software, and post-processing. This article will discuss the factors that contribute to overall metal 3D printer costs.

By Team Xometry
October 12, 2021
 5 min read
Cost Driver #1: Material Cost
One of the most important metal 3D printer costs is that of the raw materials. Metals for 3D printing are often far more expensive than other forms of the same metal. This is due to special processing and purity requirements. In addition to the raw material itself, some metal 3D printers require inert gas which can add a surprising amount to the overall annual cost. There are 3 main groups of metal 3D printed raw materials as listed below. 
One of the biggest disadvantages of powder-based metal 3D printing (typically laser-based printers) is the cost of the raw material. In most cases, the process to turn metal into powder is expensive and energy-intensive. In addition to this, the powder needs to be highly pure which only adds to the overall cost. Metal powder can cost anywhere from $79/kg for 17-4PH steel to $738/kg for advanced titanium alloys like Nitinol.
3D printing technologies like DED (Directed Energy Deposition) have much lower material costs because their raw material comes in wire form. Metal wire is much cheaper to produce than powder. Essentially, the costs are comparable to spooled welding wire. However, it must be noted that DED printers do not produce good finishes and often need additional machining after printing is complete.
3D printers like the Desktop Metal Studio 2 and Markforged's Metal X make use of a polymer-metal powder matrix that is supplied in spools. This process uses the same powder as MIM (Metal Injection Molding) processes and the quality and particle size tolerance is more lenient than is the case for laser-based systems. That all gives this technology the cheapest raw material cost. Desktop Metal claims the material cost per kg is 80% cheaper than normal laser-based powder printers.
A metal 3D printer at work
Cost Driver #2: Design Software
Most metal 3D printing suppliers will provide software to prepare the part for printing. However, full-featured CAD software that can be used to design complex parts must be purchased at an additional cost. For instance, only specially designed software can properly simulate how loads will affect the performance of a complex, latticed 3D printed component. Normal analysis software cannot accurately simulate these special cases. The software also requires skilled operators who know how to use it effectively. These programs often operate on a subscription basis that may cost thousands of dollars per year to maintain for multiple users.
Cost Driver #3: Machine Cost
The metal 3D printer cost depends on a few factors. Each technology is best suited for certain applications, a fact which is evident in the varying machine costs. In general, metal 3D printers can be sourced for as little as a hundred thousand dollars but can also cost over a million dollars. Cheaper machines are best suited to low production volumes and don't always produce optimally dense parts whereas higher-end machines can manufacture dense parts 24/7 with very little downtime. It must, however, be noted that the costs of advanced industrial-scale printers cannot be accurately determined due to factors such as shipping, geographic location, custom machine options, etc. Some common metal 3D printer costs are listed in the table below.
Name
Technology
Cost

Name

Technology

ADAM (Atomic Diffusion Additive Manufacturing)

Cost

Name

Technology

Cost

Name

Technology

Cost

Name

3D Systems - DMP Flex 100

Technology

Cost

Name

Technology

EBM (Electron Beam Melting)

Cost

Name

Technology

DMLS (Direct Metal Laser Sintering)

Cost

Name

Technology

DMLS (Direct Metal Laser Sintering)

Cost

Name

Desktop Metal - Production

Technology

Cost

Name

Technology

DED (Directed Energy Deposition)

Cost
Cost Driver #4: Post-Processing Cost
Metal 3D printing often requires varying degrees of post-processing. In some cases, the part needs to be sintered in a furnace, and in other cases, post-machining or polishing will be needed. All of these post-processes add to the overall metal 3D printer cost and need to be considered when choosing a metal 3D printer. Some typical post-processes are listed below. 
FREE Binder Jetting Metal 3D Printing Design Guide
Machine and Part Cleaning: In the case of powder-based printers, the unused powder must be collected and sifted before it can be reused. In addition to this, the part may need post-processing, especially if it has support structures to remove. 
Machining & Polishing: In some cases, accurate features that 3D printers can't achieve must be machined into the part using subtractive techniques. And even if that's not the case, metal 3D printed parts do not come off the machine with polished surfaces. If the part needs polishing, that will have to happen after the part is printed, thus adding to the overall metal 3D printer cost. 
Heat Treatment or Sintering: Some metal 3D printing processes generate internal stresses within the part. This happens when the heat of a laser or electron beam creates uneven cooling. These stresses can be removed through stress-relieving heat treatment processes. Other printing technologies involve polymer binders that must be burnt out of the part in a sintering furnace. These are energy-intensive processes and add to the metal 3D printer cost.
Which Metal 3D Printer Do I Need?
It can be difficult to decide which metal printer is ideal because the total metal 3D printer cost of ownership is hard to calculate. In addition to this, the cost of the part can in some cases be more expensive when compared to metal injection molding or CNC machining. In most cases, it may be easier to outsource the manufacture of these parts — at least in the beginning stages — to get an idea of their production cost. Another method is to use Xometry's instant quoting feature and metal 3D printing service to get your parts printed on-demand.

Team Xometry
This article was written by various Xometry contributors. Xometry is a leading resource on manufacturing with CNC machining, sheet metal fabrication, 3D printing, injection molding, urethane casting, and more.