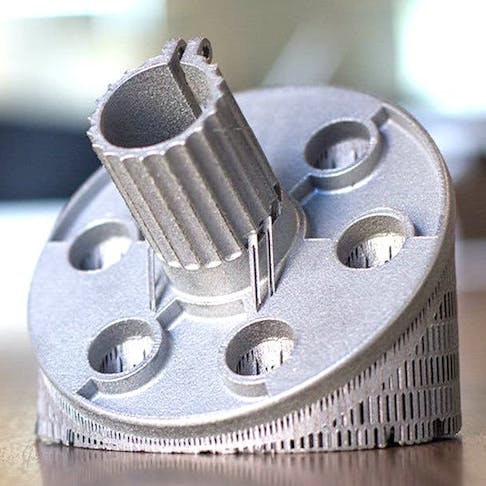 The Best 3D Printing Software in 2021
Here's our take on the best 3D printing software with details on features to help designers and manufacturers decide which is the best option for their printed parts.

By Team Xometry
October 18, 2021
 6 min read
1) Netfabb
Netfabb is an Autodesk product that is designed to be used with a wide range of machines and printing technologies. This software supports over 300 machines and can be used to prepare models for printing. In fact, Netfabb claims to have workspaces for every printing technology. All of this functionality comes at a cost, though, and Netfabb is by far the most expensive software on this list. However, this is one of the best 3D printing softwares.
A) Build Preparation 
Netfabb has a range of features that help streamline the process of setting parts up for 3D printing. Some of these are listed below.
File Import - Most solid model file formats from leading 3D modeling softwares like NX, SolidWorks, and Autodesk Inventors can be imported directly without the need to first convert to a mesh file.
Support Structures - Support structures can be automatically generated based on the model's specific features. The software can identify areas where supports will be needed. 
Part Modification - Models can be directly edited to conform to technology-specific DFM principles inside the 3D printing software. This eliminates the need to change the model in the original CAD software. Modifications may include changing the wall thickness, adding dovetails, or creating fillets on sharp corners.
Internal Structures - Lattice structures can be added to the internal volume of the part to improve its strength without significantly affecting the weight.
B) Analysis
Netfabb has an impressive suite of simulation features to dramatically improve print efficiency and also reduce the likelihood of print failures. If such simulation capabilities are an important deciding factor for you, then this is the best 3D printing software by far. Among the simulation options are:
Strength Analysis - Parts can be analyzed using FEA techniques to confirm if they will hold up to the expected loads. This is especially useful if the original CAD model does not delineate features like thin walls with internal lattices.
Process Simulation - Netfabb is able to simulate the printing process and predict the effects of heat. It may be able to warn you of warping problems ahead of time. It can then use this information to optimize the process to compensate for these effects. Even the internal stresses can be simulated to help inform which heat-treatment process is most optimal to remove the stresses that develop during printing. 
C) Compatible File Formats
3DS, 3MF, AMF, BINVOX, GTS, NCM, OBJ, PY, STL, VRML, WRL, X3D, XPR, BMP, CLF, CLI, DSF, JPEG, MTT, PNG, PS, SLC, SLI, SLM, SSL, SVG, USF
D) Compatible Printing Technologies
SLS, SLM  (DMLS), MJF, DLP, DED, EBM, FFF (FDM), Carbon DLS, SLA
E) Similar Competitor Softwares
2) Cura
Cura was originally designed for the Ultimaker range of FDM 3D printers. Both a free and a paid version are available and both can be used with any FDM printer that accepts g-code. Cura also has a range of preloaded profiles for most of the popular FDM printers on the market. It is widely considered the best 3D printing software for FDM. 
A) Build Preparation 
Manage Printers - Cura can manage multiple machines and their profiles from within the software. This is ideal if you run multiple different printers and want to keep all the relevant information in one place. 
Print Setup - Multiple print-specific settings can be accessed to set everything from infill type to wall thicknesses. There are different levels of options available - some basic and others with over 400 individual settings intended for experienced users.
Tested Profiles - Cura has seen wide use in the 3D printing industry and as such there is a wealth of data available for many different machines. Cura leverages this data to make intelligent recommendations on the optimal profile for a specific 3D printer.
CAD integration - Cura has partnerships with major CAD software suppliers like Solidworks, Siemens NX, and Autodesk. These CAD packages thus get custom-tailored plugins so they will seamlessly and efficiently integrate with the printing equipment. 
B) Analysis
Process Analysis - Cura can connect to the printer and is able to provide some basic information such as remaining time, a live camera feed, and general printer information. However, this is the full extent of its process analysis and isn't nearly as complex as Netfabb.
Pre-Process Analysis - Cura offers no analysis features for FDM parts. Generally, FDM processes are difficult to simulate due to the overall complexity of thermoplastic behavior. 
C) Compatible File Formats
STL, OBJ, X3D, 3MF, BMP
D) Compatible Technologies
Cura is only compatible with FDM printers.
E) Similar Competitor Softwares
3. Chitubox
Chitubox is a slicing software designed specifically to be used with resin printers. There is a free version available with some basic features as well as an advanced version suited for more professional applications. It is widely considered as one of the best 3D printing software options for resin-based printing.
A) Build Preparation 
Model Preparation - Chitubox allows parts to be properly hollowed out, making it easy to add drainage holes and repair potential failure points  
Simple to use - Chitubox has a streamlined UI packed with features that makes it easy to use.
Multiple Part Arrangement - With a click of a button, Chitubox can automatically arrange parts on the printer bed to make optimal use of the space available. This saves a lot of time that would otherwise be spent painstakingly placing each part.
Support Generation - Supports can be automatically generated in the most optimal locations. In addition to this, supports can be manually moved and modified to suit specific requirements. Multiple different support structures like branch, tree-like, or contour supports are available. Symmetrical planes are automatically detected to create symmetric supports.
Multiple profiles - More than one profile can be used on a single print. This allows for more freedom when printing parts to help achieve the desired end product functionality. 
B) Analysis
Process Simulation - General process simulation is not available with this software and it is generally difficult to implement with SLA printing due to the complexity of photopolymer simulation.
Pre-Process Simulation - Chitubox has some pre-process analysis features. These mainly aim to reduce the likelihood of print failures due to island formation.
C) Compatible File Formats
X3D3DS, SAT, 3MF, 3DM, DAE, STP, IGES, STEP, WRL, SAB, DXF, FBX, IFC, IGS, JT
D) Compatible Technologies
SLA, DLP, LCD
E) Similar Competitor Softwares

Team Xometry
This article was written by various Xometry contributors. Xometry is a leading resource on manufacturing with CNC machining, sheet metal fabrication, 3D printing, injection molding, urethane casting, and more.