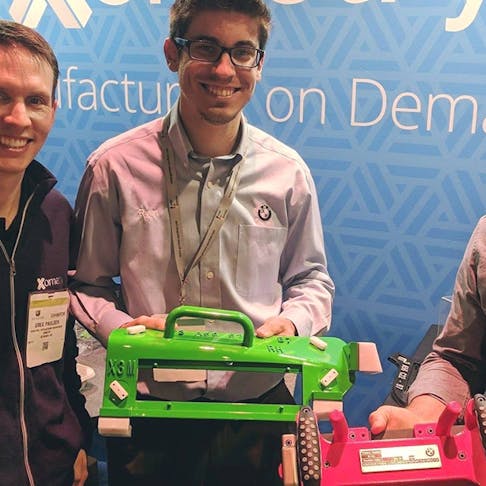 Xometry Named a BMW Tier 1 Supplier
We are excited to announce that Xometry has been named a Tier 1 supplier to BMW Group, one of the world's leading automotive companies, providing injection molded after-sales/service parts.

By William Krueger
October 9, 2020
 3 min read
We are excited to announce that Xometry has been named a Tier 1 supplier to BMW Group, one of the world's leading automotive companies. We will supply injection molded after-sales/service parts to BMW. This marks our first designation as a Tier 1 supplier of replacement parts to a major industrial OEM.
"We are thrilled to receive this designation and to provide after-sales/service parts to BMW," said Randy Altschuler, Xometry's CEO. "Being selected by BMW as a Tier 1 supplier is a testament to Xometry's exceptional product quality and ability to serve the needs of the automotive industry. There is a vast opportunity to make the production of after-sales parts more efficient across the automotive and other major industries."
Examples of the fixtures Xometry has manufactured for BMW
A recent article in Additive Manufacturing Magazine covered in-depth some of the amazing work we are doing for BMW.
BMW is a case of a manufacturer using Xometry's manufacturing network in a unique way. Engineers at BMW design custom tools for use in production assembly processes, but in many cases they have to employ internal resources to get those tools made which can take weeks if not months for internal manufacturing capacity to be available. Instead, BMW uploads the models for all of a tool's components can to Xometry's Instant Quoting Engine.
Xometry provides instant pricing, lead times, DFM checks, and — most importantly — the ability to check out online as if you were shopping on Amazon. From there, we fabricate every piece of the tool — often going to different partners in our distributed manufacturing network to do so. In this way, for a tool that includes both machined and 3D-printed components, all the pieces of the tool can be made by separate companies yet arrive together. All BMW has to do from there is assemble it.
"Amazon is a good analogy for the Xometry," says Greg Paulsen, Director of Application Engineering at Xometry. "On Amazon, you buy five things supplied by five companies, but they all come in one box. Xometry is able to provide the same thing: All the components that are part of the order for a single tool—whether those parts are machined, 3D printed, or some of each—arrive together in a single shipment. That level of coordination can be difficult to obtain even for tooling sourced internally."
Thanks to our wide range of capabilities — including Professional 3D Printing, injection molding, urethane casting, CNC machining, and sheet metal fabrication — we can provide unparalleled on-demand manufacturing capacity to automotive manufacturers in need of custom tooling and after-sales/service parts that would otherwise be too costly to manufacture internally.

William Krueger
As a digital marketing specialist, William works with all forms of media from photography and video to content writing and graphic design to tell the story of American manufacturing. He holds a B.A. in Communication from Wittenberg University.