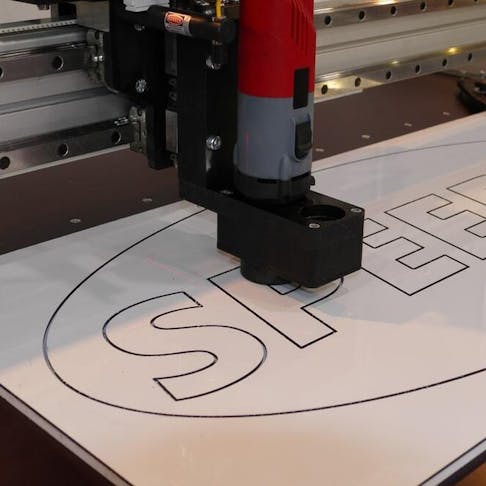 Best CNC Routers in 2023
Learn more about the best CNC routers and their features.

By Team Xometry
October 24, 2022
 9 min read
CNC (computer numerical control) routers are automated cutting devices. These machines can quickly complete a large number of projects and, due to their safety features and automation, can be left unattended to complete batch projects. CNC routers can easily, quickly, and accurately carry out repeated operations, and finish large jobs in just a few hours.
CNC routers are necessary to scale production up and increase output in demanding markets. Multiple CNC routers can reasonably be cited as among the best: 
MYSWEETY 2-in-1 CNC 3018 Pro Engraver Machine (best overall)
VEVOR CNC 3018 Pro Router Machine (best budget pick)
RATTMMOTOR 3018 Pro 3 Axis GRBL Control DIY CNC Kit (best DIY kit)
In this article, we've handpicked the eight best CNC routers on the market today. We'll detail some of the main features, price, and the working volume of each machine. 
1. MYSWEETY 2-in-1 CNC 3018 Pro Engraver Machine
The MYSWEETY 2-in-1 CNC 3018 Pro Engraver Machine is perfect for beginners. This user-friendly machine is easy to assemble and fun to work with. It comes with a laser engraver tool. Although the product also comes with a GRBL board, the software is not included and will need to be purchased and installed separately in order to use it. However, there are some good open source options available that you can use. 
The MYSWEETY 3018 Pro has a large working volume of 300 x 180 x 45 mm and can cut many types of: plastics, acrylics (only the types intended for spindle milling cutters), wood, PVCs, and PCBs. This router is priced at $297.99 on Amazon. 
2. VEVOR CNC 3018 Pro Router Machine
The Vevor 3018 Pro router is a very popular option and, at $199.99, is one of the best affordable router options. The machine is an upgrade from the original CNC 3018 and is built with durable materials. The product is easy to assemble and comes with an effective working volume of 300 x 180 x 45 mm. The machine also comes with programming software already installed. 
With the Vevor 3018 Pro, users can cut and engrave a variety of materials, including: soft aluminum, acrylic, PVC, and PCB. On the downside, it's not compatible with harder materials like metals. Take note that the product does not come with a laser head, so that must be purchased separately if you aim to do laser engraving. 
3. RATTMMOTOR 3018 Pro 3 Axis GRBL Control DIY CNC Kit
The RATTMMOTOR DIY kit is a cost-effective DIY tool that is well-suited for beginners. It has a fan to cool the unit, a control board, and 42 stepper motors. The machine has an effective working volume of 300 x 180 x 45 mm. 
The spindle is able to reach 20,000 rpm. This CNC router has a stepper motor with limit switches, offline recognition, and short-circuit protection, making it ideal for home woodworking projects. It is listed for $170 on Amazon. 
4. BOBSCNC Evolution3 E3 CNC Router Kit
Bob's CNC Evolution is a top-rated CNC router kit with 457 x 406 x 85 mm of cutting space. The whole thing is manufactured from high-quality components that work together to make a sturdy and dependable machine. Its rigid frame dampens vibration and noise to an impressive degree, producing clean, accurate cuts on all three axes.
Additionally, the manufacturer provides a ton of instructional videos that can help you get started as well as lead you through the time-consuming assembly process. One of the highest-quality CNCs you can find in its price range, Bob's CNC Evolution is a beautifully designed machine that rightly receives praise from both amateurs and pros. The product is priced at $1130.00. You can download the attendant software free from their website. 
5. ORTUR CNC Laser Engraver
The ORTUR CNC laser engraver is a very compact CNC router machine that is also reasonably affordable, coming in at $450 on Amazon. The product is perfect for hobbyists looking for a compact machine. This machine has an engraving area of 390 x 410 mm. 
As a critical safety feature, the laser engraver will switch off if its sensor detects unintentional movement. The laser will immediately turn off if either the motor or the machine ceases to move or if the machine's location changes. This device runs on Windows®, Linux®, and macOS®.
6. SainSmart Genmitsu CNC Router
The SainSmart Genmitsu 3018 PROVer is a step up from the previous Genmitsu 3018 PRO; whereas the PRO version comes as a DIY kit, the PROVer comes pre-assembled. The machine has a dedicated offline touchscreen that gives you total control over its functions. Safety is also improved with an emergency stop button and acrylic side walls that contain chips and debris.
It includes a build volume of 260 x 155 x 35 mm and an added feature that allows the user to reset to zero automatically. It is also designed to suppress noise. Users have the option of upgrading the machine to add a laser. Finally, the PROVer also has more aluminum structural parts than its predecessors, making it more durable. It's also reasonably priced for a desktop CNC machine at $349.
7. Next Wave Automation CNC Shark® HD
The Next Wave Automation CNC SHARK® HD line of machines was specifically designed for industrial use. They're known for their power, efficiency, and versatility. The SHARK® HD510 CNC machine, for example, has a 711 x 914 mm table and makes an ideal instrument for carving or milling a vast range of materials like composites, wood, soft metals, or plastics.
This device is feature-rich with details like a USB port interface, a steel gantry for improved stability, a color touch screen, auto on/off router functionality, total control over all axes, and added software. Each SHARK® HD CNC router machine comes with some additional clamps, a one-year warranty, a 3D sampler pack, and a carbide V-bit. This machine is priced at $3,999.99. 
8. FoxAlien CNC Router 4040-XE Milling Machine
The FoxAlien router is ideal for intermediate users. The machine is packed with features like an emergency stop and an offline control board embedded in the touchscreen display. Users who need to finish more complex engravings on wood, acrylic, or even MDF will value this CNC machine's spindle that can move as much as 2000 mm/min. This device offers a working volume of 400 x 400 x 65 mm and is priced at $999 on Amazon. 
What is a CNC Router?
A CNC (computer numerical controlled) router is a machine that controls high-speed rotating cutters through computer programming and uses them to shape and cut parts or materials. The intended shape is realized by removing material from the workpiece. Both complete cuts and partial, sculpted, or contoured cuts are often possible. For more information, see our guides on CNC Machines and CNC Routers.
What Makes a CNC Router Great?
Great CNC routers are distinguished by their accuracy, size, capacity, material compatibility, duty cycle, and durability. These are all factors to consider when purchasing a CNC router. Typically, you should aim to purchase the best router that your budget allows. 
What is the Importance of a CNC Router?
CNC routers are important tools because they can quickly and precisely machine the same pattern multiple times, minimizing waste and accelerating production to save time and money. CNC routers are ideal for basic cuts and soft materials. However, some CNC routers can cut up to 30 different materials, including: wood, steel, plastic, foam, acrylic, and others.
Which Software is Used in a CNC Router?
Between the design and manufacturing stages, a CNC router typically uses three different types of software: computer-aided design (CAD), computer-aided manufacturing (CAM), and computer numerical control (CNC) software. There are free and paid versions of each. 
CAD software is a tool that allows you to design your three-dimensional project or item in the computer. CAM refers to the software that converts those CAD files into G-code that the CNC machine can understand. The G-code is then processed by a CNC program which also transmits the driving signal to move the CNC router spindle in the proper directions.
Is a CNC Router Necessary?
Yes, a CNC router is a critical tool for most modern machining operations. Compared to manual routers, CNC routers improve cutting accuracy, manufacturing speed, repeatability, and safety. Although CNC routers are more pricey, the cost is offset by the time, efficiency, and manual work they save. Ultimately, the router will pay for itself. 
Summary
This article presented CNC routers, explained what they are, and discussed the different options available for your needs. To learn more about CNC routers, contact a Xometry representative.
Xometry provides a wide range of manufacturing capabilities, including CNC machining and other value-added services for all of your prototyping and production needs. Visit our website to learn more or to request a free, no-obligation quote.
Copyright and Trademark Notices
Windows® is a registered trademark of Microsoft Corporation.
Linux® is a registered trademark owned by Linus Torvalds.
macOS® is a registered trademark of Apple Inc.
Next Wave Automation CNC Shark® is a registered trademark of Next Wave Automation.
Disclaimer
The content appearing on this webpage is for informational purposes only. Xometry makes no representation or warranty of any kind, be it expressed or implied, as to the accuracy, completeness, or validity of the information. Any performance parameters, geometric tolerances, specific design features, quality and types of materials, or processes should not be inferred to represent what will be delivered by third-party suppliers or manufacturers through Xometry's network. Buyers seeking quotes for parts are responsible for defining the specific requirements for those parts. Please refer to our terms and conditions for more information.

Team Xometry
This article was written by various Xometry contributors. Xometry is a leading resource on manufacturing with CNC machining, sheet metal fabrication, 3D printing, injection molding, urethane casting, and more.