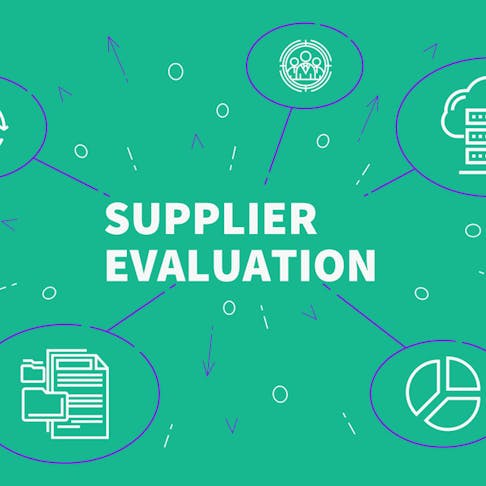 5 Key Factors to Consider When Conducting a Supplier Evaluation
In this guide, we'll be going over some of the most crucial factors in conducting supplier evaluations, as well as how to ensure evaluations are successful.

By Team Xometry
February 9, 2023
 7 min read
In any supplier evaluation, whether for a new or current vendor, it's important to gauge the company's production capacity, performance, risk, quality, and environmental impact. However, gauging these factors by itself will get you nowhere without an organized approach to the evaluation and a larger framework to make the assessment information work for you.  
In this guide, we'll be going over some of the most crucial factors in conducting supplier evaluations, as well as how to ensure evaluations are successful. First, however, we'll be diving into why supplier assessments are important and how to set up a larger vendor evaluation system to ensure you can get the fullest benefit from your evaluation data.
Why Conduct a Supplier Assessment?
A strong supply chain is the backbone of a successful business. Regardless of your industry, close working relationships with your suppliers will streamline production timelines, minimize operating costs, and guarantee the quality of your products.
Most companies regularly evaluate their suppliers' performance in search of inefficiencies or possibilities for further growth to buttress the supply chain and reinforce relationships with suppliers. These supplier evaluations are holistic assessments grounded in verifiable quantitative metrics and meaningful qualitative observations.
By examining a supplier's capacities, technological resources, delivery strategies, and general business practices, you can ensure that your partners share your priorities, and can then adjust their operations to your company's competitive benefit. In the process, you can significantly reduce your own risks, improve visibility at every stage of operations, and create greater value for your products and services.
Putting a Vendor Evaluation System in Place
Supplier performance evaluation should be a regular part of your company's procurement activities, not just a procedure reserved for vetting new vendors. A strong supplier assessment system will regularly evaluate suppliers, using categories and rankings within those categories to determine where strong and weak supply areas are. Even for companies that are only limited in the number of suppliers they can use, evaluations help to distinguish which of the suppliers should be prioritized, as well as to map out potential risk areas. The end goal of the system is to track the consistency of vendor performance in a way that's incorporated into the purchasing process.
Vendor performance should include clear KPIs and metrics slated toward company priorities, including red flag metrics to show when a supplier fails to meet standards. Procurers should rate suppliers each time they are used, with deadlines for when they submit the feedback after a purchase. The feedback should also be reviewed regularly by the person or group classifying vendors. It can be easier to adopt a number evaluation system when procurers rate supplier performance, as the final scores can be used to easily rank companies.
These ratings and indicators shouldn't just exist internally either. It's important to agree on them with your vendors so that they're aware of expectations and can provide feedback about them. Including a system of recognition and reward for improvements can also help to clarify expectations for them and motivate improvements. Common mistakes in vendor evaluation systems include inconsistent use of agreed-upon KPIs and metrics, not giving regular feedback to suppliers on their performance, ignoring supplier feedback in discussions and determining metrics, and using confusing metrics and KPIs.
What to Assess in a Supplier Evaluation
Vendor evaluation is largely founded on data. Therefore, this should be a carefully structured process, centered on quantifiable performance indicators such as delivery times, production costs, and inventory levels. A standardized set of supplier evaluation criteria provides a necessary frame of reference with which you can assess a supplier's abilities and compare it with those of competitors.
Before evaluating a current or potential supplier, however, a company must set clear expectations for the relationship between them. At the outset, you should clearly articulate your goals so that the supplier fully understands the obligations involved and can adjust operations accordingly if needed.
While supplier evaluation can be based on a number of factors, there are several considerations that every company should address, regardless of the specific industry. Some of these elements include:
Production Capacity
All supplier evaluations should thoroughly appraise the supplier's abilities and limitations. A supplier that cannot scale production in response to your production cycles will not fare well in any review.
Quality
While it can be difficult to quantify the quality of a product, this should always be a central component of a supplier evaluation. ISO BS/EN ISO 9001:2000 certification remains the industry standard here, which indicates that the supplier excels in management responsibility, resource management, product realization, and measurement, analysis, and improvement.
Performance
Your company should ask as many questions as needed to determine whether a supplier can handle your typical functions. Previous experiences with similar companies, relevant recent projects, and possible advances on current products or processes are all valid subjects for discussion.
Risk
Every business invariably confronts some risks, but its suppliers should actively work to minimize them throughout the supply chain. Reviewing performance metrics such as overall delays, average response time, and corrective actions can help you develop a reliable quantitative assessment of the risks posed by a particular supplier.
Environmental Impact
Sustainability is an essential element of a successful business for both financial and ethical reasons. An evaluation should cover a supplier's waste management strategies, waste reduction practices, and material procurement procedures, as well as efforts to achieve energy efficiency and any protocols employed when handling harmful materials.
How to Ensure a Successful Supplier Evaluation
While many companies can easily identify the criteria needed for a supplier evaluation, it can be a challenge to follow the practices needed to guarantee its success. The following guidelines can help your company retain its focus throughout your evaluation.
Outline a schedule. Clearly defining needed tasks and establishing deadlines for them ensures that everybody understands their responsibilities and will work to complete them correctly and promptly.
Provide your suppliers with a concise yet detailed questionnaire at the beginning of the process. The questionnaire should request both factual and subjective responses, should only solicit necessary information, and should not contain any questions that the respondent cannot answer.
Visit your supplier's facilities. A personal visit to your supplier can confirm the data gained from the questionnaire while offering insights into intangible aspects of the supplier's operations, such as workplace culture. This also offers an opportunity to review the supplier's quality control strategies, the current state of equipment, and the workforce's technical competence.
Ensure that the right staff members are participating in the evaluation. If you need to evaluate the performance of a Level 1 supplier, for example, the chief financial or revenue officer should probably be involved, as well as senior members of the procurement department.
Be courteous to your supplier. A strong working relationship with your supplier can only heighten productivity. Don't hesitate to congratulate strong performers, and provide less successful suppliers with a warning and some guidance so that they can attempt to resolve the issue before you end your partnership.
The Value of Smart Supplier Evaluations
Supplier evaluations serve as an invaluable tool for your business. By conducting them regularly, your company can gain greater insight into operations, proactively identify opportunities for growth, lower risks, streamline production timelines, eliminate unnecessary expenses, and bolster the performance of your suppliers. These competitive benefits cannot be overstated.
Although it should, of course, be comprehensive, supplier evaluation doesn't need to be difficult. By following the appropriate protocols within a larger framework, it can be a simple process for companies and suppliers alike, allowing both to better understand their strengths and shortcomings, and encouraging both to work together to build a stronger, more prosperous partnership.

Team Xometry
This article was written by various Xometry contributors. Xometry is a leading resource on manufacturing with CNC machining, sheet metal fabrication, 3D printing, injection molding, urethane casting, and more.