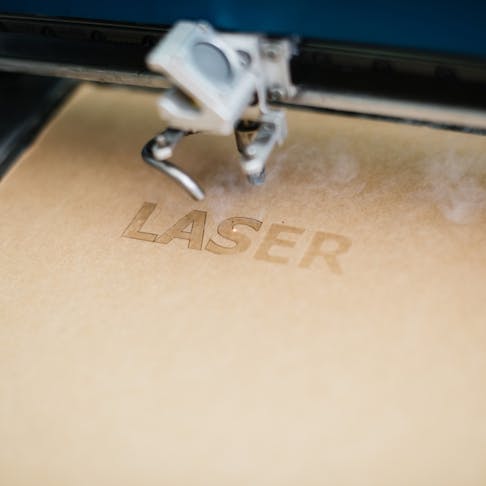 13 Best Design Software Packages for Laser Engraving

By Team Xometry
August 18, 2023
 24 min read
Laser engraving uses a high-intensity beam of light to remove material from the workpiece. This laser beam removes a thin layer of material to create marks or designs on the surface. Choosing the right laser cutter software is crucial to ensure it complements your projects and seamlessly works with your laser machine. Fortunately, various software options are available, catering to different laser cutting needs. Some you must pay for, and others are free. In this article, we will explore some of the best laser engraving software choices. Listed below are the 13 best design software options for laser engraving:
1. Adobe® Illustrator®
Adobe® Illustrator® is a renowned vector graphics editor widely used in laser engraving projects. It allows users to create illustrations, logos, and intricate designs. In laser engraving applications, the primary tools to use include: line, pen, shape, layer, stroke, and fill. Adobe® Illustrator® supports various file formats such as: EPS, AI, PDF, DXF, DWG, and SVG. It runs on all major operating systems and is compatible with Windows 10 and 11, as well as macOS Catalina (version 10.15 or later). On Windows and Mac platforms, Adobe® Illustrator® requires a minimum of 8 GB of RAM and a display resolution of 1024 x 768 pixels, while on iPad, it requires a minimum of 4 GB of RAM.
One of the key features of Adobe® Illustrator® in terms of laser engraving is the automated image tracking feature. This feature allows users to convert raster images to vector format quickly. You also have the option to access third-party plug-ins like Gcode Tools, which enable the conversion of vector files into G-code at an approximate cost of $10. However, it's important to note that to send the generated G-code to your machine, you will require dedicated control software.
Some of the drawbacks of this software include a steep learning curve for beginners and the cost of the subscription. The individual plan is priced at $20.99 per month on the annual plan, paid monthly. A prepaid annual option is available at $239.88 per year and a monthly subscription plan costs $31.49 per month. There's no free version available for Adobe® Illustrator®, however, they do offer a 7-day free trial. Ratings and reviews indicate high user satisfaction, with an average rating of around 4.8 out of 5. 
2. CorelDRAW®
CorelDRAW®, developed by Corel Corporation, is a fairly old software continuously evolving to focus primarily on editing vector graphics. It is a popular vector graphics editor suitable for laser engraving, known for its creative tools and ease of use. Users can draw, edit, and manipulate vector graphics for laser engraving projects. 
File formats like AI, PSD/X-4, PDF, SVG, DWG, DXF, EPS, and more are supported. It is compatible with both Windows and macOS and needs 4 GB of RAM as a minimum for smooth operation. When purchasing CorelDRAW®, you have the option to choose between digital versions for Windows/macOS, or boxed versions for Windows. Note that the boxed version requires a PC with a DVD drive. The software include a user-friendly interface and an extensive library of templates, but some beginners may find advanced features overwhelming. The Graphics Suite version offers greater flexibility and additional features compared to the Essential version and Standard version. You have the opportunity for a 15-day trial of the software, after which you can opt for a one-time or yearly license for continued use. CorelDRAW® offers three pricing options ranging from $249–499 per license per year. Customer ratings for this software generally range from 4.3 to 4.5 out of 5.
3. TurboCAD™
TurboCAD™, from IMSI Design, is a widely used design software known for its affordability and powerful capabilities. TurboCAD™'s Designer version is particularly suitable for creating 2D designs required for both laser cutting and laser engraving applications. TurboCAD™ has the capability to export vector files to formats like: DXF, DWF, DWG, and PDF as well as other file types, including: ASM, JPG, PNG, and BMP. This software can be installed on both Windows (32-bit and 64-bit) and macOS (32-bit and 64-bit) platforms, requiring 4 GB RAM at minimum.
TurboCAD™ offers the Overkill tool, which efficiently eliminates overlapping arcs and lines in a design, streamlining vector drawings for laser cutting. Additionally, it removes redundancies and provides an event viewer to keep track of modifications. Another valuable feature is the PDF Underlay tool. This tool enables users to replicate existing designs by saving them as vector PDF files and tracing over them within a new TurboCAD™ project. The UI of TurboCAD™ is user-friendly, featuring a startup screen that guides users through what the software offers. Additionally, the UI is customizable. However, the learning curve might still be a bit steep for complete beginners. 
A license key for TurboCAD™ can be purchased from their website or through Amazon. It is available as a one-time purchase with different pricing tiers, ranging between $99.99 and $499.99. There's also a free trial available for 15 days. Ratings and reviews for this software range from 4 to 4.3 out of 5.
4. DraftSight®
DraftSight®, developed by Dassault Systems, offers multiple versions, including Professional, Premium, and Enterprise. This powerful 2D CAD software enables users to create, edit, convert, and view designs. It includes useful features like: image tracing, draw comparison, power trim, auto dimension, and layer manager tools. Another characteristic of DraftSight® is its hairline option, allowing users to specify the line width for their desired print choice. This feature proves essential for avoiding inaccuracies in laser cutting and preventing unwanted barrier lines at the edges of the finished design.
The software supports a wide array of vector and raster image output formats, including: BMP, DWG, DXF, EPS, SVG, PDF, and PNG. To run DraftSight®, a 64-bit Windows (8.1 or newer) or macOS (10.14 or newer) with 2 GB RAM at minimum is required, although opting for 4 GB or more RAM is optimal for smoother performance.
The biggest drawback of this software is its cost, ranging between $249 and $549 per year. The Enterprise pricing option is also available on request. DraftSight® does, however, also offer a 30-day free trial to potential customers. The software has an average rating of 4.1 out of 5 on different rating platforms. 
5. Affinity® Designer©
Affinity® Designer stands out as a popular vector graphics editor and is often considered one of the top alternatives to Adobe® Illustrator®. It is suitable for laser engraving, offering a range of tools and features for intricate designs. Users can import or create vector graphics and export them in various formats like AI, EPS, and PDF. Affinity® Designer allows users to work with multiple artboards simultaneously and apply custom grids and guides to enhance their design process. Additionally, the software offers the ability to work with raster images, providing sufficient control for laser engraving purposes.
Available for both Windows and Mac, Affinity® Designer can be purchased as a one-time software license. Furthermore, there is an iPad version available, offering all the main functions of the desktop version at a more budget-friendly price. Affinity® Designer is available for purchase as a one-time payment of $52.99 for either macOs or Windows versions or $13.99 for the iPad version. You also have the option to purchase a Universal License for their entire creative suite on all platforms for $123.99. With generally positive reviews, the software is rated 4.6 out of 5.
6. Inkscape®
Inkscape® is open-source software primarily designed for creating vector drawings. It provides tools for creating and editing vector graphics ideal for laser engraving. SVG is the native image format, and it supports JPG, GIF, PDF, and PNG as well. Furthermore, you can expand its capabilities by installing other file extensions through add-on plugins. Inkscape® boasts a user-friendly interface with a wide array of tools at your disposal. 
Its extensive library of drawing tools allows the user to create intricate designs, and by installing plug-ins, you can easily work with various file extensions. This laser engraver software provides a comprehensive set of standard drawing and shape tools. One of the best features of this software is that it natively exports in SVG format. SVG is a royalty-free graphics formatting markup language. One drawback of this software is its limited compatibility with certain formats, such as PSD, as it relies on bitmaps, which are exclusively supported by the Adobe format library.
Being open source, Inkscape® benefits from continuous development, and its multi-platform compatibility (Windows, Mac, Linux®) ensures that your machine's operating system does not hinder your creative process. It also requires at least 2 GB RAM to function properly. The software is entirely free to use for a lifetime. However, if you wish to support the developers and contribute to the software's development, you have the option to make a donation. This software is rated from 4.4 to 4.6 out of 5, with reviewers praising its accessibility and frequent updates.
7. Solid Edge® 2D
Solid Edge® is a CAD software with laser engraving capabilities designed for precise and complex designs. Users are able to create 2D and 3D designs using parametric and direct modeling tools. File formats supported include DXF, SVG, STL, and more. Solid Edge® is a commercial software with varying pricing based on the edition. The ratings and reviews range from 4.1 to 4.3 out of 5, with positive comments on its powerful capabilities and 3D support.
Solid Edge® 2D, on the other hand, is a free-to-use 2D drafting software. Its unique and practical set of powerful features makes it an excellent tool for designing and editing files for laser cutting and engraving. Despite its simplicity, Solid Edge® 2D offers an effective tool set enabling the creation of diverse and unique designs. Solid Edge® 2D's feature set includes the ability to add dimensions, annotations, and layers, and it allows for direct export in DWG file format, perfect for laser cutters. These user-friendly features enable the creation of professional results efficiently, while the software can also be easily adjusted for everyday hobby purposes. 
To operate Solid Edge® 2D Drafting effectively, a system running Windows 10 Enterprise or Professional (64-bit only) version 1809 or later is required. Additionally, it demands 16GB of RAM  with a resolution of 1920 x 1080 pixels due to its memory-intensive nature. Internet access is only necessary for downloading the software, and since it is free, no authentication is needed. Registration grants access to the community forum.
8. OpenBuilds® CAM & Control
OpenBuilds® serves as an online platform and community in which hardware designers can freely exchange their projects. A few years ago, OpenBuilds introduced two programs for digital fabrication: OpenBuilds CAM and OpenBuilds Control. These sophisticated tools are designed to facilitate milling and laser cutting processes, with the former even possessing the capability to generate G-code through a web-based application.
OpenBuilds Control software is compatible with Windows, macOS, and Linux® operating systems. It grants users the ability to preview and simulate the G-code before transmitting it to the respective machine. Moreover, both OpenBuilds CAM and OpenBuilds Control are offered free of charge without restrictions, accommodating a wide range of CNC and laser machines in the market. OpenBuilds CAM, when paired with OpenBuilds Control, seamlessly synchronizes, enabling direct control commands to be sent to laser cutters or engravers. This web-based tool exhibits the ability to convert vector files, such as: SVG, Gerber, and DXF, to G-code, compatible with CNC control software. Moreover, it extends its support to raster files, including: PNG, JPG, and BMP.
OpenBuilds CAM comes equipped with built-in parts and a text insert library. For added convenience, the software allows the user to simulate toolpaths directly from its workspace window. OpenBuilds Control, on the other hand, represents a free and open-source solution specifically designed to interface with a laser machine via a computer. The software's primary function revolves around interpreting G-code in order to provide instructions to the GRBL-based controller embedded within the laser engraver or cutter. An excellent feature of OpenBuilds Control is its compatibility with GRBL-based controllers, allowing you to utilize your G-code for other GRBL-based control software. Both OpenBuilds CAM and Control have a very good rating of 4.8 and are praised amongst their users. 
9. LightBurn®
LightBurn® stands at the forefront of paid laser-cutting software options. This comprehensive software serves as an all-in-one solution for laser cutting, enabling users to design, prepare files, and take full control of their laser machines. It provides the capability to import a wide range of popular vector graphics (AI, DXF, PLT, HPGL, SVG, PDF, and RD) and bitmap image formats (JPEG, PNG, TIFF, BMP, TGA, and GIF). While it may not encompass all CAD features, LightBurn® remains a widely adopted laser engraving software for its adaptability and cross-platform compatibility with Windows, Mac, and Linux® OS. Also, it exhibits compatibility with a variety of laser CNC controllers, including: Marlin, Ruida, TopWisdom, and Trocen.
With LightBurn®, you gain access to a robust set of tools that empower you to create and modify vector shapes and designs effortlessly. The editor environment facilitates seamless boolean operations, node editing, and quick shape welding, providing a smooth and intuitive design experience. While internet access is necessary for activation, authentication, and updates, LightBurn® can be efficiently utilized offline as well.
While LightBurn® is a paid software, it generously offers a 30-day free trial. Paid plans for software updates range from $60–$150. Reviews often highlight its ease of use and live preview feature. The software boasts widespread support for many laser cutter controllers, although it may not be compatible with some inexpensive K40 laser cutter machines. 
10. LaserWeb
LaserWeb is a fourth-generation, free, and open-source laser cutting tool. It operates as a web-based application and runs on various devices, including Raspberry Pi. Alternatively, it can be utilized as an application for Windows, macOS, and Linux® on their GitHub releases page. Regardless of the application version, all processing occurs on their server, requiring online connectivity and minimal system requirements.
One standout feature of LaserWeb's latest versions is the ability to import multiple files with varying formats into a single project. It excels at generating G-code files from DXF, JPG, SVG, BITMAP, or PNG files. Another notable feature of LaserWeb is its capability to connect to a camera, facilitating visual placement and alignment of the design on the stock through its Optical Mark Recognition (OMR) feature. Additionally, LaserWeb offers a job cost estimator, a valuable tool for hobbyists managing their budgets or professionals seeking accurate invoices.
Overall LaserWeb is praised for its customization options and compatibility with various laser engravers and receives an average rating of 4.7. It is comparable to OpenBuilds and holds up against LightBurn®. 
11. LaserGRBL
LaserGRBL is a free G-code generator and streamer designed specifically for laser cutting and engraving on Windows. It is fully compatible with GRBL, an open-source motion control firmware utilized in CNC and laser machines. It offers support for both raster and vector images. One of the notable strengths of LaserGRBL is its lightweight nature, demanding minimal hardware requirements, apart from the necessary operating system. The user interface is clean and uncluttered. The software efficiently handles both control and G-code generation for cutting and engraving, all within a single platform. 
The standout feature of LaserGRBL lies in its impressive vectorization tool. This tool is capable of transforming pixel-based images like JPEG and PNG into a vectorized format, utilizing a process known as tracing. Furthermore, LaserGRBL offers the flexibility to override laser power and speed settings, enabling users to fine-tune their final output and achieve desired results. It's worth noting that LaserGRBL is currently only available for Windows systems. Despite this limitation, its features are more than adequate for beginners and hobbyists.
12. SolveSpace
SolveSpace has an impressive array of features and excellent responsiveness for laser engraving. Remarkably, the application package is just 10 MB in size, making it compact and efficient for use on Windows, Linux®, and macOS desktops. It is also free and open source. It boasts a comprehensive set of 2D drawing tools, while also offering the capability to create and assemble intricate 3D models using parametric assembly tools. Its versatility extends to preparing files tailored for waterjet cutting, laser machining, and various other machinery, which can be seamlessly exported to laser engraving software that will control the machine. Moreover, SolveSpace proves to be highly valuable for crafting files in STL format.
Its simple UI allows for a faster and more compact software package, but it may be more difficult for new users to pick up. However, once you become familiar with it, SolveSpace becomes a useful tool, enabling you to create unique and intricate designs for your laser cutter.
13. XCS
XCS (xTool Creative Space) is a free-to-use specialized laser control software meticulously developed for xTool machines. It delivers exceptional results when used with compatible machines. The workspace of the design software offers a minimalistic design. Within the software, users have the ability to effortlessly insert basic shapes and elements to aid in creating their designs. The software enables the convenient addition of custom text in desired fonts and styles. 
XCS boasts a range of useful functionalities, such as: grouping, ungrouping, aligning, and reflecting. One standout feature is the ability to extract vector graphics from images. The software's features include a comprehensive suite for laser control and graphic editing. Furthermore, XCS is compatible with rotary attachments and offers free projects that can be readily imported into the software.
Pricing is undoubtedly a highlight, as XCS is entirely free for lifetime use. Additionally, the software is regularly updated, ensuring users can access the latest features and improvements directly from the official website. Overall, XCS enjoys a rating of 4.1 out of 5. 
What Is Laser Engraving Software?
Laser engraving software is a specialized program designed to control laser cutting and engraving machines. It plays a vital role in the laser engraving process by creating physical products from virtual designs. The software takes input in the form of design files and converts them into machine-readable formats like G-code, SVG, or DXF, which are then given to the laser cutter or engraver.
How Does Laser Engraving Software Work?
Laser engraving software operates in three tiers: Design, Machining, and Control. Design software (CAD) is used to create designs for use in engraving machines. Next, CAM software is employed to convert the design files into G-code or other machine-specific formats. Users can configure the speed of the laser, its power, the thickness of the material, and other relevant parameters in CAM. Finally, the Control software will act as the interface between the user and the laser cutter, allowing complete control and visualization of the machine's operation.
What Is the Primary Purpose of Design Software for Laser Engraving?
The primary purpose of design software for laser engraving is to facilitate the creation and editing of designs and files that will be engraved or cut by the laser machine. Users can utilize the design software to draw vector graphics, import raster images (in some cases), and add text, shapes, and other elements to their projects. Once the design is complete, it serves as the input for the CAM software for the laser engraving process. For more information, see our guide on What is a Laser Engraver.
Can Laser Engraving Software Be Used in Laser Cutting?
Yes, laser engraving software can be used in the laser cutting process. In fact, many laser engraving software solutions also have capabilities for laser cutting. While the primary focus of laser engraving software is to create and prepare designs for engraving, it often includes functionalities and features that extend to laser cutting as well. These features may include: the ability to import vector files, set cutting parameters such as power, speed, and focus, and generate G-code or machine-specific instructions for laser cutting.
Can Laser Engraving Software Be Used in Laser Etching?
Yes, laser engraving software can be used in laser etching. In fact, laser engraving process and the laser etching process are essentially the same, with the terms often used interchangeably in the industry. Both laser engraving and laser etching involve using a laser beam to remove material from the surface of an object to create marks, designs, or patterns. The laser engraving software allows users to import designs, create vector graphics, and customize settings like laser power, speed, and focus to achieve the desired etching depth and detail.
How To Choose Laser Engraving Design Software?
To choose the right laser cutter software for your needs, there are several factors to consider. First, look for software that can support both common vector graphic file formats and offers tools for automated image tracing to convert raster images to vectors. Second, select software that can work seamlessly on your operating system. If you use Windows, macOS, and Linux®, opt for software that is compatible with all three operating systems. Third, check the system requirements for the laser cutter software. Choose software that your computer's capabilities can handle to avoid additional investments in hardware. 
Next, consider the cost of the software. Some options are available for free while others require subscriptions. Fifth, evaluate the features and functionalities offered by each software. Ensure that the software you choose provides the necessary tools and capabilities to accomplish your laser-cutting projects effectively. You will also need to consider the user interface and ease of use of the software as well as user communities and available support for the software.
What Is the Best Laser Engraving Software for Simple Designs?
For simple designs, Inkscape® and Affinity® Designer are excellent choices. Inkscape®'s user-friendly interface and a large library of drawing tools make it ideal for creating straightforward designs. Affinity® Designer, with its powerful features and ease of use, also provides a great platform for crafting simple designs for laser engraving.
What Is the Best Laser Engraving Software for Complicated Designs?
For more complex and intricate designs, Adobe® Illustrator® and CorelDRAW® are top contenders. Both software options offer advanced vector editing capabilities, allowing users to create intricate designs with precision, making them perfect for complicated laser engraving projects. LightBurn® is also a very notable choice for the best laser engraving software for complicated designs. It provides a good balance between price and features and also offers extensive support documentation. 
What Is the Best Laser Engraving Software for Beginners?
Inkscape® is highly recommended for beginners in the field of laser engraving. Its intuitive user interface, comprehensive toolset, and availability as free and open-source software make it an excellent choice for those starting their laser engraving journey. Inkscape®'s extensive online resources and community support further aid beginners in learning and mastering the software quickly.
What Is the Average Cost for Laser Engraving Design Software?
It depends. There are many free options available on the market, and some budget-friendly software options below $100. However, most of the paid software options are subscription-based and can range from $21 per month to $500 and more. 
Is There Free Laser Engraving Software?
Yes, there are free laser engraving software options available. Some popular free software for laser engraving includes Inkscape®, LaserGRBL, Solid Edge® 2.0, SolveSpace, and OpenBuilds CAM & Control, among others. 
What Are the Advantages of Laser Engraving Software?
The advantages of laser engraving software are as follows:
Provides precise control over the laser beam's movement and power.
Is compatible with various materials, such as wood, acrylic, metal, glass, and leather.
Many laser engraving software solutions offer user-friendly interfaces and tools that enable easy design creation.
Streamlines the design process and automates various tasks.
Supports vector graphic formats like SVG, which allows for smooth scaling without any loss of image quality.
Seamlessly interfaces with laser machines.
Provides various tools and features to manipulate designs.
Many laser engraving software solutions come with extensive online resources, tutorials, and user communities.
What Are the Disadvantages of Laser Engraving Software?
The disadvantages of some laser engraving software include:
Some laser engraving software solutions may have a difficult learning curve, especially for beginners.
Not all laser engraving software is compatible with all laser machines. Incompatibility issues could lead to difficulties in generating G-code or other machine-specific instructions.
While there are free options available, some advanced or feature-rich laser engraving software may come with a cost.
Certain laser engraving software may have specific hardware requirements. In some cases, users may need to invest in hardware upgrades to run the software optimally.
Certain laser engraving software, especially options with complex features or 3D capabilities, can be resource-intensive and may consume significant memory and processing power.
Some web-based laser engraving software may require a constant internet connection to function.
While most laser engraving software supports popular file formats like SVG and DXF, some may have limitations when it comes to importing or exporting certain file types.
Is It Hard To Use Design Software for Laser Engraving?
The difficulty of using design software for laser engraving can vary depending on the specific software and the user's prior experience with graphic design tools. However, many modern laser engraving design software solutions are designed with user-friendliness in mind and aim to make the design process as intuitive and straightforward as possible.
For users with some background in graphic design or experience using similar software, adapting to laser engraving design software might be relatively easy. On the other hand, there may be a slight learning curve for users who are new to graphic design or have limited experience with design software. 
Can SVG Files Be Used for Laser Engraving Software?
Yes, SVG files can be used for laser engraving software. SVG is a widely supported vector graphic file format that is ideal for laser engraving and cutting applications. SVG files are composed of mathematical equations that define lines, curves, and shapes, making them highly scalable without any loss in quality. Laser engraving software that supports vector graphics can import SVG files directly for engraving or cutting purposes. These files allow users to create complex designs, intricate patterns, and customized text with sharp edges and clean details, delivering high-quality results on the engraved material.
Summary
This article presented the best design software packages for laser engraving, explained each them, and discussed their various features and capabilities. To learn more about laser engraving software, contact a Xometry representative.
Xometry provides a wide range of manufacturing capabilities, including sheet cutting and other value-added services for all of your prototyping and production needs. Visit our website to learn more or to request a free, no-obligation quote.
Copyright and Trademark Notices
Inkscape® is a registered trademark of Software Freedom Conservancy, Inc.
AutoCAD® is a registered trademark of Autodesk, Inc., and/or its subsidiaries and/or affiliates, in the United States.
Linux® is a registered trademark owned by Linus Torvalds.
Adobe® Illustrator® is a registered trademark of Adobe in the United States and/or other countries.
LightBurn® is a trademark of LightBurn Software, LLC.
CorelDRAW® is a registered trademark owned and used by Corel Corporation and its subsidiaries.
TurboCAD™ is a trademark of IMSI Design, LLC.
DraftSight® is a registered trademark of Dassault Systèmes SolidWorks Corp.
Affinity® is a registered trademark of Serif (Europe) Ltd. [Affinity Designer © 2014-2020 Serif (Europe) Ltd. All rights reserved.]
Solid Edge® is a trademark or registered trademark of Siemens Product Lifecycle Management Software Inc. or its subsidiaries in the United States and in other countries.
The OpenBuilds® registered trademark is owned exclusively by OpenBuilds LLC and its respective licensors.
Disclaimer
The content appearing on this webpage is for informational purposes only. Xometry makes no representation or warranty of any kind, be it expressed or implied, as to the accuracy, completeness, or validity of the information. Any performance parameters, geometric tolerances, specific design features, quality and types of materials, or processes should not be inferred to represent what will be delivered by third-party suppliers or manufacturers through Xometry's network. Buyers seeking quotes for parts are responsible for defining the specific requirements for those parts. Please refer to our terms and conditions for more information.

Team Xometry
This article was written by various Xometry contributors. Xometry is a leading resource on manufacturing with CNC machining, sheet metal fabrication, 3D printing, injection molding, urethane casting, and more.