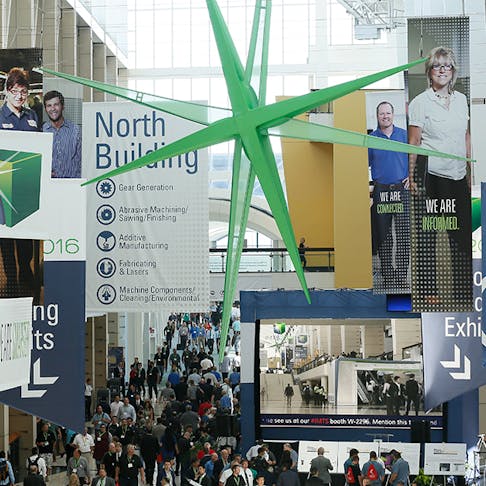 Xometry's Guide to IMTS 2018
In preparation for IMTS 2018, we've put together this handy guide to all of the exciting events we will be participating in plus where you can find our booth and other cool events and tech you should check out while you're at the show.

By William Krueger
October 9, 2020
 7 min read
Every two years, the International Manufacturing Technology Show (IMTS) sets up shop in Chicago for what is arguably the greatest manufacturing exhibition of its kind. IMTS draws in over 2,500 exhibitors and more than 120,000 guests from 120 countries and jams them all into 1.37 million square feet of floor space — an area the size of an Apple cloud data center. In short, a lot of amazing tech and a lot of interesting people, all in one massive location.
Waiting for IMTS to begin is like the night before your birthday: you can't sleep because you're so excited for what's in store. We at Xometry are just as eager for the show to begin. In preparation, we've put together this handy guide to all of the exciting events we will be participating in plus where you can find our booth and other cool events and tech you should check out while you're at the show.
My Kingdom for a Booth
This year, IMTS will be back at McCormick Place in Chicago, IL — its usual venue — and will run from Monday, September 10th through Saturday, September 15th. If you haven't done so already, you can still register here.   
If you're attending IMTS 2018, you'll definitely want to stop by our booth #431601 on level 3 in the west building. Whether you're already familiar with Xometry or want to learn more, we will have something for you. Throughout each day of the show, we will be giving live demos of the Xometry Instant Quoting Engine as well as handing out awesome Xometry swag.
You will also get to chat with Xometry's own Greg Paulsen — made famous by his fun and informative engineering videos — as well as other members of our team including Drura Parrish, former founder and CEO of MakeTime and Xometry's new EVP of Platform. If you come by on Tuesday, September 11th between 10am and noon you'll have a chance for a meet and greet with Ryan Lambert, Lead Mechanical Design Engineer for BMW Manufacturing.
Exclusive Events You Won't Want to Miss
IMTS isn't soley about the amazing tech scattered across the show floor. It's also a place of knowledge, learning, and collaboration. Speakers from around the world come together to help all of us in manufacturing plan for a brighter future. We could go on and on listing the various conferences and impressive speakers who will be imparting words of wisdom throughout the show, but we want to highlight a few in particular because that's where Xometry will be.
On Tuesday, September 11th from 2:45 to 3:15, Greg Paulsen from Xometry and Ryan Lambert from BMW will be speaking at theAdditive Manufacturing Conference. During their session, titled "When Additive Saved the Supply Chain," they will discuss how 3D printed parts are becoming standard practice on the production line. Greg and Ryan will tackle the challenges of getting buy-in on new manufacturing technologies as well as when to use additive manufacturing over CNC machining for fixtures and assemblies, and the future opportunity of additive in the automotive industry.
New to IMTS this year is Modern Machine Shop's Top Shops Event. Top Shops is MMS annual celebration of the best machine shops in the country. This is the first time they have co-located the conference with IMTS and we will, of course, be there on Thursday, September 13 from 2 to 3pm. Drura Parrish, EVP of Platform at Xometry, will be leading a panel of industry experts including Jim Rink, Plant Manager at Caterpillar; Jeff Rizzie, Director of Digital Machining at Sandvik Coromant; and Paul Ericken, Supply Chain and Purchasing Consultant, on next-gen issues surrounding supply chains, procurement and sourcing. If any of our amazing partners will be attending IMTS, this is the panel to see. You'll learn what technologies are changing the face of contract manufacturing and how to prepare your shop for the Fourth Industrial Revolution.
Lastly, we will be joining the stage with GE during their Innovations Day at HANNOVER MESSE USA. Sponsored by GE Ventures, one of Xometry's investors, Innovations Day will kick off the morning of Thursday, September 13th at 11am in the Solutions Theater on the show floor. You'll get to hear from Karen Kerr, executive managing director of GE Ventures, on investing in the new industrial segment with a focus on frontier technologies such as robotics, machine learning, AI and 3D printing. Drura Parrish will then join GE on stage for a brief presentation of our on-demand manufacturing platform and proprietary quoting software. This is one presentation you won't want to miss.
And A Whole Lot More
We wouldn't be doing our due diligence if we didn't highlight a few other amazing events and opportunities you can — and most definitely should — take part in while you're at the show.
For starters, the Additive Manufacturing Pavilion will be larger than ever with close to three times the number of exhibitors showcasing additive-related tech. Here, you'll get to meet with additive manufacturing experts, browse and compare industrial 3D printer systems, learn how to integrate additive with your existing supply chain or shop, and discover how to put additive manufacturing to work for you in existing assemblies, rapid prototyping, or new product development.
You can't have IMTS without robots — or more specifically, cobots. Every year, robots always steal the show at IMTS. From a massive robotic arm lifting cars high up over the show floor to new robots able to perform complex tasks thanks to developments in AI and machine learning, robots are ever present and always exciting. This year, though, cobots will finally get their due. You'll get to interact — literally — with exhibits that highlight the benefits of collaborative robots from the likes of Kuka, FANUC, and Universal Robots.
With so many innovations to see, it can be hard to decide which booths to visit. The IMTS Exhibitor Product Innovation Competition recognizes exhibitors with the newest — and most groundbreaking — manufacturing technology available for implementation today. Be sure to visit this year's winners — Sandvik Coromant, OTT-JAKOB, and Logic Supply — at IMTS.
If you have any interest in big data, machine learning and digital transformation — which, let's be honest, you do otherwise why would you be going to IMTS — then you should be sure to stop by the Digital Transformation Conference presented by Women in Big Data. Here you'll learn tips and tricks on understanding the value of data and how it can drive your competitive advantage. Speakers include Jane Bailey, VP of Product Marketing at GE; Ester Codina, Managing Director for Sandvik Coromant; Nina Anderson, Data Scientist for the Association for Manufacturing Technology (AMT); and many more. The conference takes place on Thursday, September 13 in the south building, room S401 from 2 to 4pm.
#MeetAtIMTS is all about bringing together a community of makers, entrepreneurs, and innovators at the show. It's a great opportunity to meet like-minded folks at discuss the future of manufacturing. The #MeetAtIMTS event takes place on Wednesday, September 12th from 1:30 to 3:30 pm. You can learn more and register here. 
Finally, for the athletically inclined, there is the Miles for Manufacturing (M4M) 5K run/walk on the morning of Wednesday, september 12th starting at 6:30am. M4M takes participants on a scenic route down Lake Shore Drive and loops around for a total of 3.1 miles. Best part is that 100 percent of participant fees and donations go directly to programs for education in STEM, robotics and manufacturing technology. You can register for the 5K here.
We've only hit the tip of the iceberg when it comes to things to see and do at IMTS 2018. We truly hope you have the chance to attend this amazing event — there is still time to register for IMTS 2018 if you haven't done so already — and join us at our booth or one of our speaking engagements.

William Krueger
As a digital marketing specialist, William works with all forms of media from photography and video to content writing and graphic design to tell the story of American manufacturing. He holds a B.A. in Communication from Wittenberg University.