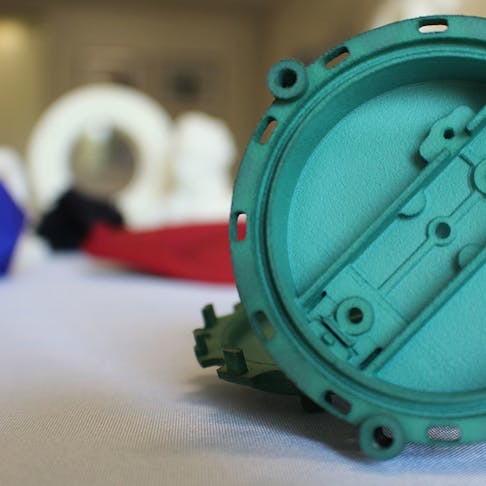 The Best 3D Printing Software: Top 10 Free and Professional Options
When designing parts for 3D printing, it's important to find the best software for 3D printing that allows for seamless CAD modeling as well as pre-manufacturing optimizations.

By Team Xometry
June 29, 2021
 10 min read
3D printing has become an essential technology for creators and engineers working across all industries. When designing parts for 3D printing, it's important to find the best software for 3D printing that allows for seamless CAD modeling as well as pre-manufacturing optimizations. There are many factors that need to be accounted for such as whether the software is best suited for hobbyists or professional engineers, and different applications. Listed below are some of the best software packages on the market that cover every use case and price point.
Before reviewing the available software, it's important to first clarify some modeling techniques for 3D printing. 
Professional Tools
1. Solidworks
Solidworks is parametric CAD software and is widely used for mechanical design. Solidworks has all the standard features typically found on any high modeling software. In addition to its powerful set of modeling options, Solidworks offers some features that make it a strong contender for the best 3D printing software.
Print Preparation
Solidworks has a range of tools for preparing a part for 3D printing through its "Print 3D" feature. Some of these options are listed below.
Wall Thickness Analysis: Since 3D printing does not involve material removal, the program can optimize wall thicknesses to a degree that would be risky if using subtractive manufacturing methods.
Support & Slicing: The print 3D feature can generate support structures as well as "slice" the model for printing. It must be noted that only the FDM printing process has native support in Solidworks. 
Clearance Verification: If 3D printed parts are to be used in multi-part assemblies, this feature can be used to ensure that the design will maintain all necessary clearances. 
Part Orientation & Sizing: The printers' bed size can be specified and the user can make sure that the part will fit. It also allows you to modify parts' orientation to see how best to make them fit.
Design for Reduced Support: The preview function highlights all the areas on the part that require supports. This helps you optimize the design to reduce the number of supports required. 
Export: Files can be exported in the STL, 3MF, AMF file format.
CAD Optimization 
Topology optimization: Solidworks allows for topology optimization in the simulation workspace. Thereafter, the design can be checked using the standard FEA solver.  
Generative Design: Solidworks does not have native generative design features but can use the ParetoWorks add-on to help it set up generative design studies.
2. Fusion 360
Fusion 360 is a cloud-based, all-in-one design, simulation, and manufacturing CAD solution. Its cloud-based nature makes it ideal for collaborative design efforts. It also has a wide range of features such as simulation, generative design, and CAM. Fusion 360 is also much cheaper than its competitors. The downside is that its more advanced simulation features require cloud credits to run. These credits must be purchased separately from the subscription. Nonetheless, Fusion 360 is the best 3D printing software for constrained budgets.
Print Preparation
Fusion 360 has built-in additive manufacturing features that allow you to optimize parts for 3D printing. It has a wide range of features, some of which are listed below. Do note that the 3D printing features set is primarily intended for FDM and SLA. However, Fusion 360 gets regular updates with new functionality.
Support & Slicing: Standard slicing functionality is available. Supports can be optimized, and once complete the g-code can be exported to the selected machine.
Export: Apart from being able to generate g-code files for specific 3D printers, Fusion 360 can export all open-source formats including 3MF & STL.
Machine Library: A machine library is available that encompasses a range of popular printers. These machine profiles contain all the specific print settings for optimal printing. If a machine is not in the library, a custom one can be created.
Infill Selection: Fusion 360 offers an exhaustive range of infill patterns for FDM printers.
Simulate Toolpath: The printing tool path can be generated as g-code and then a simulation of the printing process can be viewed to help predict any potential printing issues.
Post Process: Once the part has been set up, its g-code can be generated. Fusion 360 has a simple interface that allows you to set additional common options without having to directly edit the g-code file.
CAD Optimization 
Generative Design - Fusion 360 has arguably one of the most feature-rich generative design capabilities on the market. This feature falls under the company's subscription or cloud credits pricing model and as such carries an additional cost over the normal Fusion 360 pricing structure. However, this cost is well worth it as the interface is easy to use and the overall result is highly informative. Fusion 360 is the best 3D printing software when it comes to generative design. 
Topology Optimization - Fusion 360 offers a topology optimization function called shape optimization. It allows for the usual features such as preserving regions and objective optimization. The part can be easily evaluated afterward using the Fusion 360 simulation environment. To solve these studies you must use cloud credits. 
3. Autodesk Inventor
Inventor is Autodesk's answer to Solidworks and has all the features found in most professional CAD programs. Inventor is excellent for mechanical design and in some aspects is a better overall modeling software than Solidworks. Inventor, however, has a very limited 3D printing tool package. Nevertheless, its robust modeling tools place it among the best 3D printing software for modeling and design.
Part Set-Up
Inventor does not have many 3D printing features. You get just the bare minimum print-optimization features. 
Machine library: Inventor has a library of common 3D printers so it knows their build platform sizes. 
Position & Orientation: The position of the part can be set once the specific machine has been selected. You'll choose which face you want on the bottom and adjust the part's orientation. 
Part Splitting: If a part is too large for the machines' build volume, the program can help you split it into separate smaller sections.
CAD Optimization 
Generative design: Inventor does not have a native generative design solution. Instead, it integrates with Fusion 360 for generative design.
Topology optimization: Inventor contains a native topology optimization tool called a shape generator. It allows for all the usual features such as preserving regions, symmetry control, and objective optimization. Thereafter, the design can be verified using the Inventor simulation package.  
4. Creo
Creo is owned by the same parent company as Solidworks. It is an extremely capable design package but has a steeper learning curve than Solidworks. In addition to this, it has a wide range of modeling features that allow you to create complex parts with less effort than Solidworks. Creo also has many useful features that give it the best-in-class assembly functionality. Understand, however, that Creo is a premium software package and therefore has a higher price point than its competitors. Overall, Creo is a highly capable software, and if cost is not an issue, it is the best 3D printing software.
Part Set-Up
Tray Assembly: Multiple parts can be added to the print bed in one step. The quantity of each can also be easily set. This allows you to maximize the print volume for any given setup.
Build direction optimization: Various parameters such as support volume, model height, and down-skin area can be used to optimize the ideal build direction.
Validate Thin Walls: This feature allows for the validation of part walls to make sure they are sufficiently robust and reduce the likelihood of weak spots or damage during removal from the print bed.
Validate Narrow Gaps: This function checks all small features to ensure they are not too small or narrow to print accurately using the selected machines.
CAD Optimization 
Generative Design: Creo has a native generative design toolset that allows you to rapidly develop products for 3D printing. There is also the option to run multiple parallel generative studies over the cloud, thus maximizing productivity. 
Topology Optimization - Creo packages its generative and topology optimization features into one tool.
Latticed Designs - Creo is one of the few CAD packages that has native support for modeling lattices. Complex lattices such as those that mimic human bone structure can be incorporated into designs. Another powerful feature is that the lattice can be automatically optimized based on FEA results, i.e the program will place denser lattice structures closer to areas of high stress.  
5. Catia
Catia is owned by Dassault Systemes, the same company that makes Solidworks. Catia is a premium tool used widely in the automotive and aerospace industries. It is well known for its robust surface modeling tools. Catia has a steep learning curve and is not a lightweight software package. Due to its premium nature, it is extremely expensive.
Part Set-Up
Export: Catia can export to STL which can then be used in other 3D printing software.
CAD Optimization 
Function-Driven Generative Design: Catia has built-in generative design capabilities that can develop optimal designs based on various input parameters. Selecting 3D pruning as the manufacturing process will create parts that are optimized for 3D printing. 
Topology optimization: Catia does not have a built-in topology optimization tool, but it does have a very intuitive and easy-to-use method of converting a topology optimization mesh into a solid model for 3D printing.
Free 3D Printing Software for All Users
The above-listed programs are extremely powerful and, in general, are the best softwares for 3D printing. However, their price points are sometimes too high to justify. If you feel this is the case there are various free CAD applications that can help to make design for 3D printing more accessible. 
Onshape: Onshape is a completely web-based modeling software with all the standard CAD features built in. It also has excellent collaboration tools that streamline product development between teams of engineers. It integrates with various 3rd party applications such as the Materialise 3D printing software to further enhance its capabilities. It must be noted that the free version requires that all designs be available to the public. 
FreeCAD - FreeCAD is a completely free and open-source CAD software. It does not have any native 3D-printing-specific features but can export files to various 3rd party 3D printing tools. It can export in both STL and 3MF formats in addition to all the standard open-source file formats.
Fusion 360 - Fusion 360 has a free version that comes with some feature limitations. However, the free version is still highly capable and is the best 3D printing software among the free options.
Post-Processing Software Tools
In addition to all the internal features of the software mentioned above, many 3rd-party tools can bridge the gaps that the major CAD packages aren't made for. Some of the more popular ones are listed below.
Netfabb: This is an Autodesk product that is designed to be used with a wide range of machines and printing technologies and supports over 300 machines. It has built-in options for modifying parts for printing plus the ability to simulate the printing process to optimize the output for specific 3D printing processes. All of this functionality comes at a cost — Netfabb is by far the most expensive software on this list. However, it is one of the best 3D printing software options.
Materialise Magics: This is a technology-neutral 3D printing preparation software. It can generate support for any printing technology as well as incorporate lattice structures inside 3D models to reduce mass. Almost any CAD format can be imported into the software.
Mesh mixer: This software is ideal for repairing meshes on STL files and has a wide range of features that let you add lattices, smooth meshes, analyze the part's stability, and more. In addition to all these features, it's completely free which makes it a perfect supplement to fill in the gaps left by some of the above-mentioned programs.
CAD Software Add-ins for Manufacturing

Team Xometry
This article was written by various Xometry contributors. Xometry is a leading resource on manufacturing with CNC machining, sheet metal fabrication, 3D printing, injection molding, urethane casting, and more.