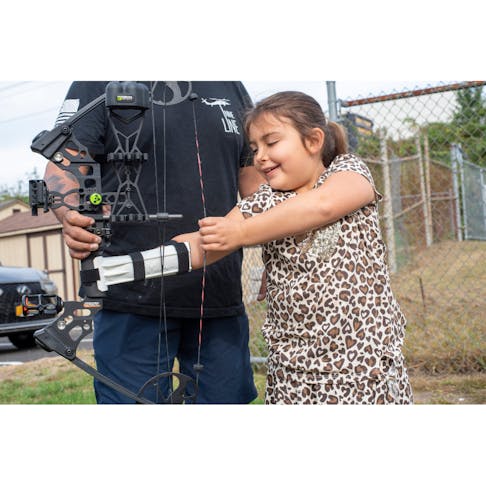 Contest Announcement: Submit Designs to Help Those With Limb Differences
Innovative nonprofit Blue Heart Hero is running a Xometry sponsored contest, and we are encouraging you to submit designs that help aid people with disabilities around the kitchen. We are curious to see what designs you will cook up!

By Team Xometry
January 7, 2022
 3 min read
This is Mia. Mia is a fun-loving 7-year-old girl that lives with her parents in New York. Mia is also half Native American, and her family has kept their cultural heritage alive by following a long-time tradition of mastering the bow and arrow. Mia had the determination to follow in her family's footsteps, but there was just one problem that stood in her way: Mia was born with a partial right arm that does not have any fingers. 
​
With the help of Blue Heart Hero, a nonprofit dedicated to making additive product solutions for people with disabilities, Mia found her solution: A 3D printed jig, designed by Brett Armstrong, a designer from Kiama, Australia. His simple 3D printed design helped Mia hold the bow and arrow for the first time. All it took was a little 3D printed material, a couple of nylon straps, some heart, and a little ingenuity. This design was the first place winner for the First Annual Blue Heart Hero Design Contest. 
At Xometry, we are proud to sponsor Blue Heart Hero's Second Design Contest to help find creative solutions for those with limb differences. The mission of Blue Heart Hero aligns with our belief that groundbreaking technologies, specifically additive manufacturing, can be used to change the world into a better, more compassionate place.
If you are an engineer or designer who wants to support this mission, now is your chance to join Blue Heart Hero's community of designers improving lives through open-source 3D printable assistive devices. Simply submit your designs to the Second Blue Heart Hero Design Contest by emailing them to [email protected] The theme of this year's contest is all about cooking. Your 3D printed designs should focus on helping people with upper limb differences who struggle with everyday tasks in the kitchen. These challenges are numerous because each can be unique to each person's ability. Therefore,  no design is off-limits. For inspiration, consider CURVD coffee mugs, a product designed by Blue Heart Hero's sister company. 
Xometry will help pick and 3D-print the design contest winners, selecting easily printable, simple, and creative designs. All submissions should be limited to an overall size of 8" in all directions, lightweight, and designed for single or dual parts only. 
Even if you don't win the "Best of the Best" prize, don't fret! You can still win in one of the following categories including,
 Best problem-solving design
Smallest design
Most creative design
Best presentation 
To get started, send an email to [email protected] with the subject line "Design Contest #2 Submission". Please include your name, country, email address, background(optional), a link to your portfolio(optional), and a description of your design(500 words or less). Lastly, please attach images of your design. Blue Heart Hero accepts sketches, renderings, or photos of your 3D print. To learn more about Blue Heart Hero and their design contest, we encourage you to visit their website at:
https://www.bluehearthero.com/design-contests-1
So, what are you waiting for? Let's make a difference together!

Team Xometry
This article was written by various Xometry contributors. Xometry is a leading resource on manufacturing with CNC machining, sheet metal fabrication, 3D printing, injection molding, urethane casting, and more.