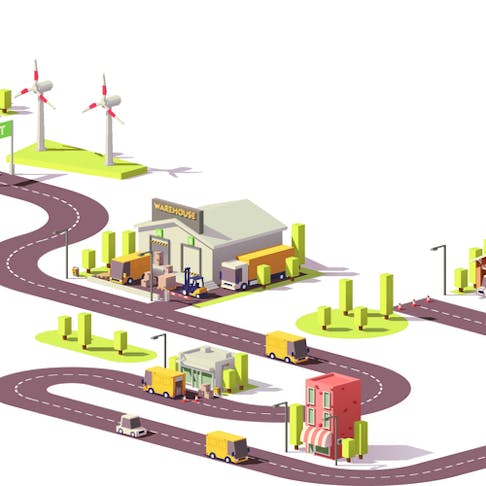 The Role of the Chief Procurement Officer
For industrial businesses in particular, having a strong leader that specializes in procurement and supply chain management can mean the difference between fiscal loss and gain.

By Team Xometry
February 9, 2023
 4 min read
In business, the executive management team acts as the engine that powers the company by maintaining the balance of the organization's day-to-day objectives, short-term targets, and long-term goals. For this team of high-ranking individuals to be successful, it's crucial that responsibilities be delegated based on specialization.
For industrial businesses in particular, having a strong leader that specializes in procurement and supply chain management can mean the difference between fiscal loss and gain. Although they are just one component of the executive machine, as the executive in charge of these processes, chief procurement officers (CPO) serve an essential function within the organization.
What is Procurement?                         
To fully understand the importance of the CPO's role, it's helpful to have a clear understanding of what procurement means.
Procurement refers to the set of processes involved in obtaining the goods and services that the company needs to function. The procurement of products and services are generally separated into two categories: direct and indirect procurement.
Direct procurement involves the purchasing of raw materials, products, and services that companies use to create their finished products. For example, direct procurement products and services would include things like metals, OEM components, and finishing services.
Indirect procurement is instead focused on the purchase of goods and services that support the business's ability to function, rather than the completion of the company's end product. These products and services include things like furniture, office supplies, and training services.
The goal of the procurement team is to get the best products and services from the best sellers at the best prices. Because they use company revenue to make purchases on behalf of all the departments within an organization, the procurement team is intertwined with all aspects of the business and plays a major role in the company's financial success. For more information, see our guide on What is Procurement?.
Procurement vs. Purchasing
The terms "procurement" and "purchasing" are often used synonymously, but they refer to different processes.
As mentioned earlier, procurement is a collection of multifaceted processes, each one designed to obtain the highest quality resources for the best value. These processes include, but are not limited to, identifying a company need, performing market research, evaluating suppliers, selecting a vendor, communicating and engaging with suppliers, and developing contracts.
Purchasing, on the other hand, is a specific process within the procurement umbrella, one which focuses specifically on the buying of goods or services. This involves several activities, including negotiating prices, issuing purchase orders, keeping track of invoices and receipts, receiving goods, and making payments. For more information, see our guide on Procurement Vs. Purchasing.
What is a CPO?
The main function of the CPO is to handle all aspects of procurement and supply chain management processes and to manage the procurement teams. As key leaders in an organization, CPO's leverage a myriad of procurement skills to balance many sensitive leadership functions. Some of these include:
Managing the overall procurement strategy
Balancing a budget
Being constantly vigilant about finding systemic procurement and supply chain improvements
Developing goals, standards, and metrics to keep track of key performance indicators (KPI)
Improving processes for efficiencies.
It's also important for the CPO to ensure that the procurement strategy is aligned properly with the company's overall corporate strategy. As such, decisions are not often simply based on dollar amounts and quality, but other factors. For example, if a company has decided to become a representative of sustainability and green practices, then procurement officers must take that into account when selecting suppliers.
Facts and Figures about CPOs
In their 2018 Global Chief Procurement (CPO) survey, Deloitte unveiled the vital trends that are currently driving success for CPOs around the globe. Using data aggregated from 504 procurement leaders in 39 countries, the professional service network revealed that:
Cost reduction was the most prominent business strategy for the majority of survey respondents (78%)
61% of procurement leaders reported improved year-over-year savings since 2017
37% improved company value by focusing on consolidated spending, while 32% focused primarily on reducing total lifecycle and ownership costs
73% of procurement leaders feel supported by their company
However, there were also some troubling CPO trends as well, including:
A poor supply chain transparency record – 65% of surveyed procurement leaders reported having no professional relationships with suppliers beyond those in Tier 1.
Low usage of advanced technologies such as predictive analytics and blockchain – only 33% reported their belief in the power of digital technologies.

Team Xometry
This article was written by various Xometry contributors. Xometry is a leading resource on manufacturing with CNC machining, sheet metal fabrication, 3D printing, injection molding, urethane casting, and more.